The USA has some of the world's most thrilling and atmospheric cities, so it's easy to see why everyone wants to visit New Orleans' French quarter or Las Vegas' Main Strip.
But for every urban attraction, there is an equally impressive natural monument that it would be a small tragedy to miss. To see some of this magnificent scenery first-hand, head to one of the USA's top destinations for nature.
Fish Camp, California
Fish Camp, California
Fish Camp is a pint-sized community situated just outside Yosemite National Park. You only have to drive a few minutes to the south entrance, where you'll be greeted with the spookily beautiful Mariposa Grove. This is an avenue of ancient Giant Sequoia trees including the Grizzly Giant, a tree thought to be between 1900–2400 years old. From there, it's about 45 minutes to Yosemite Valley, where you'll immediately feel dwarfed by the enormous granite cliffs. Take a photo of the mighty rock formation, El Capitan, or the tall, thin Bridalveil Falls in the background but don't be disappointed if your camera can't quite convey the unparalleled, real life beauty of the granite's light, purple shimmer. Or the deep greens of the pine, fir, and cedar trees. Check into Tenaya Lodge at Yosemite, nestled in the mountains 3km from Yosemite National Park.
Everglades City, Florida
Everglades City, Florida
Most people go via Everglades City to the eponymous National Park (the largest subtropical wilderness area in the USA) and the Ten Thousand Islands. This maze of connected islets and twisted mangroves is a surreal place to canoe, exploring leafy tunnels and stopping on empty patches of sand. You can take guided eco-tours on foot, by small plane, bike or power-boat, hopefully spotting some manatees, birds, and other exotic flora and fauna. Ivey House B&B is an eco-friendly accommodation within easy reach of Everglades National Park.
Twentynine Palms, California
Twentynine Palms, California
One of the USA's most treasured national parks, Joshua Tree, is just a few minutes' drive from the dusty, desert city of Twentynine Palms. The park is an oasis straddling the Mojave and Colorado desert, named after its native Joshua trees; peculiar evergreens with spiky, cactus leaves reaching upwards like many-fingered creatures. Follow the hiking trails that weave through the sparse landscape and valleys, stopping at points like Keys View for vistas that stretch for miles around. Flying Point Homestead in Twentynine Palms offers suites in bungalows and Airstream trailers with easy access to Joshua Tree National Park.
Gardiner, Montana
Gardiner, Montana
The tiny town of Gardiner has served as an entrance to Yellowstone National Park since before the town was officially founded in 1880. Yellowstone is one of the USA's most well-known reserves, spanning three states and 2.2 million acres. It's also home to elk, bison, moose, bears, deer, and a host of other wildlife, plus the Old Faithful, a cone-shaped geyser that erupts almost every hour. Yellowstone Gateway Inn is the highest-rated accommodation in Gardiner.
Flagstaff, Arizona
Flagstaff, Arizona
Flagstaff is the closest big city to the Grand Canyon, found around 80 miles from both the south and east entrance stations to the South Rim. It takes about an hour and a half to drive from Flagstaff to this natural masterpiece of complex rock formations that glow red in the Southern sun. For the best views, venture onto the glass Skywalk suspended above the canyon floor, book a guided sunset tour or even a helicopter ride if you're feeling extra adventurous. After a day spent admiring the area's natural splendour, relax in the hot tub at the highly rated Comfort Inn I-17 & I-40 Flagstaff.
Bluff, Utah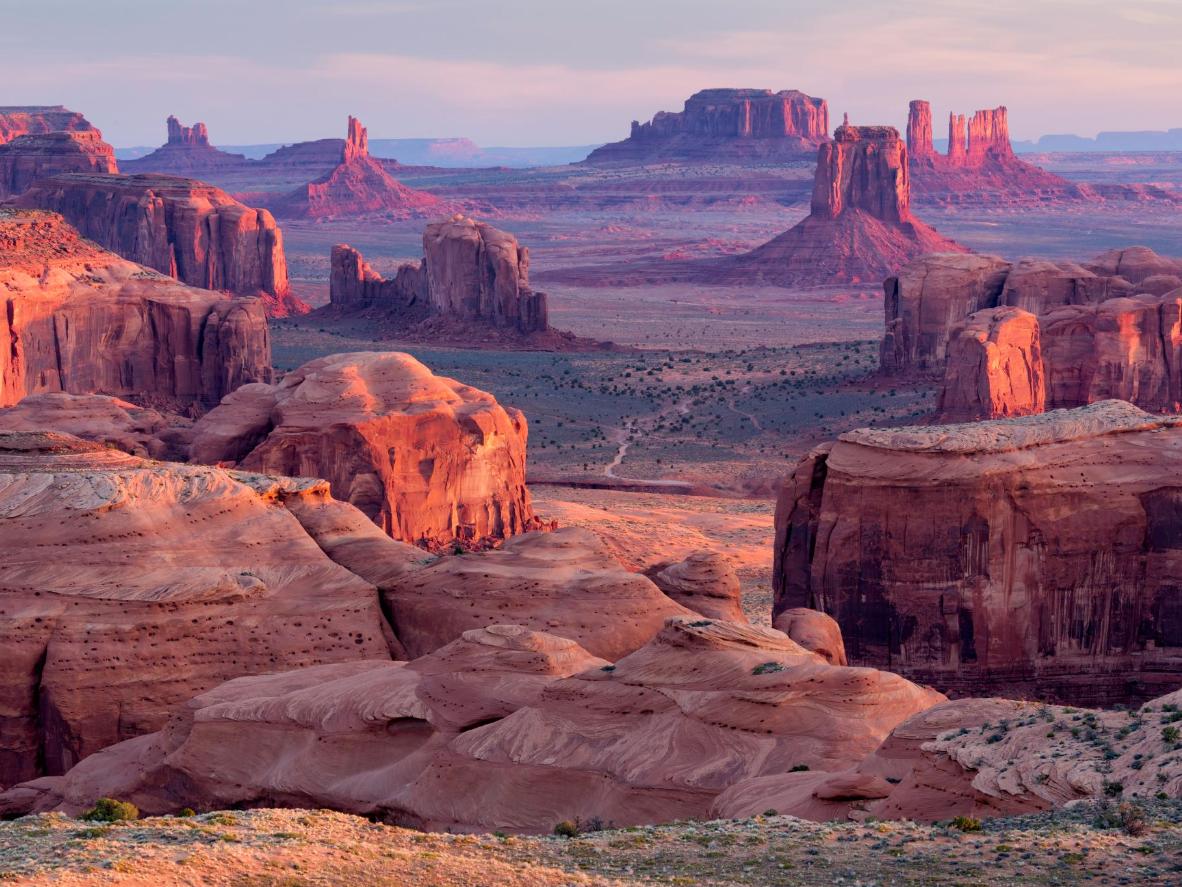 Bluff, Utah
Utah is home to some staggering feats of nature and Bluff is the launch pad from which to see many of them. On the border of Utah and Arizona, standing prominently amid flat desert, are the red rock formations known as Monument Valley, created over millions of years by wind erosion. You can't hike towards any of the formations unless accompanied by a paid guide, but make sure to take a sunrise drive to see it at its most splendid. Then there's Gooseneck State Park, a deep meander of the San Juan River with layers of rock forming artistic curves as if drawn by a finger in the sand. With windows opening onto desert and huge rock formations, while also in the centre of Bluff, La Posada Pintada has a pretty great location.