This year, Tuesday 1st February marks Lunar New Year, with 2022 marking the year of the Tiger (2021 was the year of the Ox). In China, the festivities usually feature parades, fireworks, feasts of sweet dumplings and more. But you don't have to travel to China to enjoy some of the best Lunar New Year celebrations – the narrow alleyways of Chinatowns around the world offer scenes of swinging red lanterns, street hawkers selling everything from incense to noodles, and golden lucky cats waving from windows. Enjoy the sights and smells of the world's biggest Chinese neighbourhoods, and discover how each has its own unique feel – here are 11 of the best.
Singapore, Singapore
Singapore, Singapore
Amid the polished, orderly cityscape of Singapore, sits an energetic neighbourhood where you can slosh back noodles and buckets of beer at plastic tables. The lantern-lit streets of this Chinatown are lined with family-run goldsmiths, trinket stalls, and food stands promising all manner of delicious fare. Sautéed, fried, simmered in broth – you'll want to try everything here. Stay at The Scarlet Singapore, a hotel housed in a preserved pre-war shophouse in the middle of Chinatown.
Yangon, Myanmar
Yangon, Myanmar
If you've yet to try Myanmar's Chinese-style barbecue on a stick, you're missing one of life's greatest pleasures. Chinatown's 19th Street in the former capital, Yangon, is renowned for its charcoal grills serving up all kinds of smoky skewers. You just put what you'd like in your basket and it's cooked to perfection and brought to your streetside table. This area is also a popular local watering hole, so there's always a lively buzz and plenty of Burmese beer. Stay in Chinatown at the highly-rated BaobaBed Hostel Yangon, which offers bikes for guests to use free of charge.
Incheon, South Korea
Incheon, South Korea
Incheon's Chinatown is the only official one in Korea, first settled in 1883 for trade during the Ching Dynasty. Nowadays the residents are mostly second and third generation Chinese who run some fantastic restaurants. The food tends to be a fusion of traditional Chinese and Korean flavours. Think sweet and sour pork, noodles with black soya bean sauce, and comforting gongal (pita-style bread) – often with a distinctly Korean twist. The Sea Moon Tourist Hotel is located on the Incheon seafront not far from Chinatown.
San Francisco, USA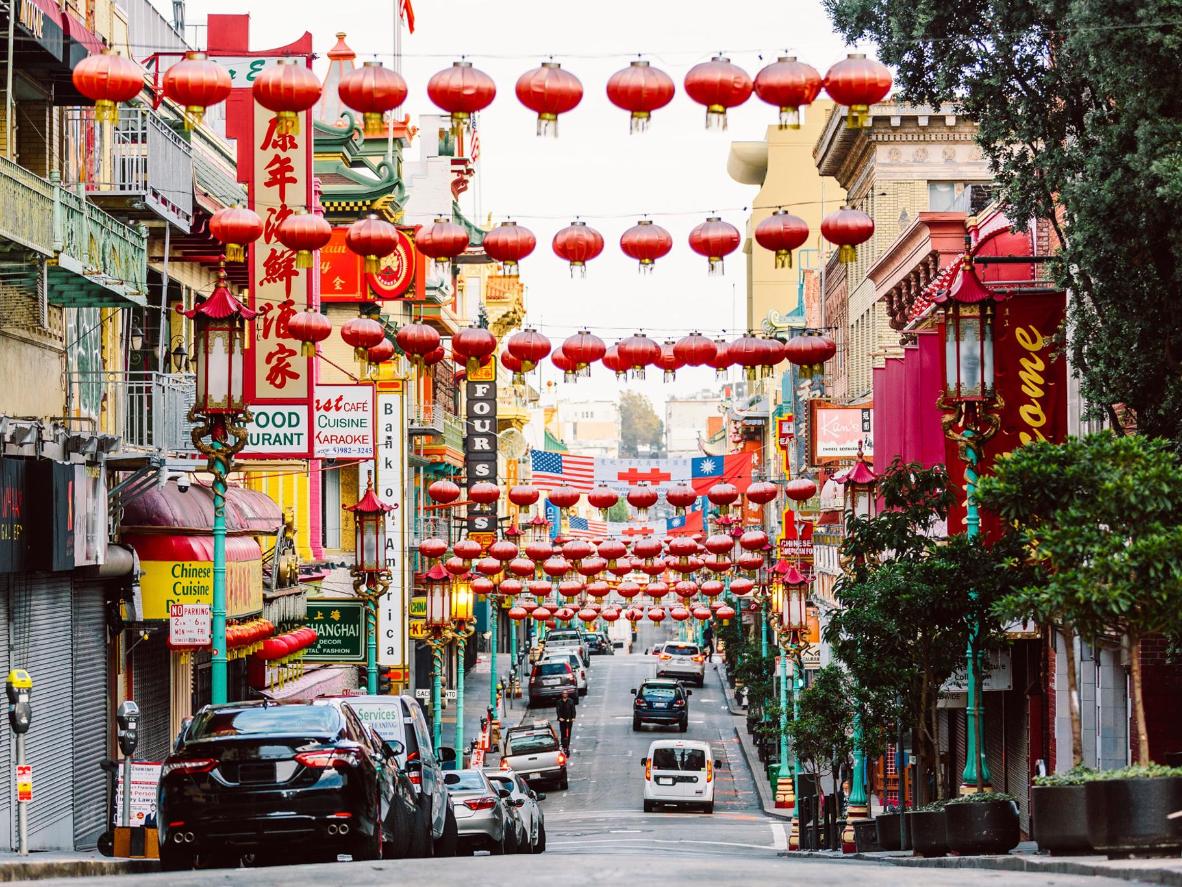 San Francisco, USA
San Francisco has the largest Chinese community of any city outside Asia, so it makes sense that its Chinatown is so big and beautiful. Right in the centre of the city, the neighbourhood spans more than two kilometres and is home to a mix of temples, shops, markets and bakeries. As you explore the food and culture of its busy streets, don't miss trying pan-fried dumplings or a selection of dim sum – some of the dumpling houses are so good that they often have lines around the corner. Check into the eco-friendly Orchard Garden Hotel, located right next to Chinatown.
Kuala Lumpur, Malaysia
Kuala Lumpur, Malaysia
Kuala Lumpur serves up Malaysia's diverse heritage all on one mouthwatering plate, and nowhere is this more true than in Chinatown. Bustling market streets are framed by skyscrapers, while hawkers sell flip-flops, flip phones and odd items. At the food courts, you can tuck into spicy pork noodle soup washed down with a freshly pressed watermelon juice or an icy bucket of beer. Then sit back and enjoy the view, people-watching as night shoppers stroll along Petaling Street. The stylish Tian Jing Hotel is just a few minutes' walk from Chinatown.
Bangkok, Thailand
Bangkok, Thailand
Bangkok's Chinatown is all neon lights, whizzing tuk tuks and pink taxis; a sensory overload in the best way possible. Get lost in the market streets, smelling the aromatic spice and tea stalls, occasionally stumbling upon peaceful gardens and temples. As you take in the sights, stop off at street stands on Yaowarat Road for fried noodles, Thai-style Chinese curries and oyster omelettes. Stay at ASAI Bangkok Chinatown, close to all the street food markets, temples and with its own restaurant, bar and garden.
Yokohama, Japan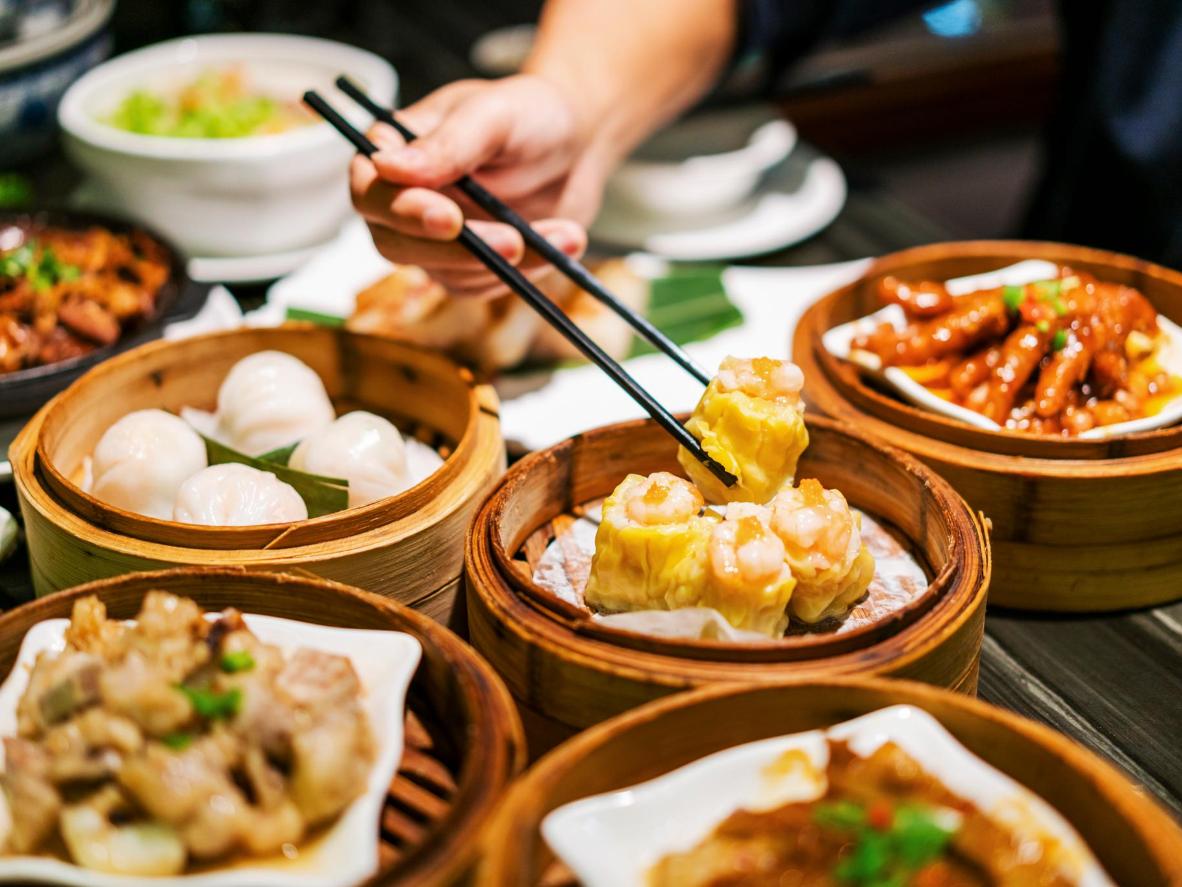 Yokohama, Japan
Entering Yokohama's 150-year-old Chinatown through the brightly painted gates, you're immediately met with a scene of lively markets and food stalls. Follow your nose and go for a hearty nikuman (meat bun) or fried sesame ball, or perhaps some shumai (pork dumplings) and Peking duck. In between edible treats, you can explore the many tiny shops selling charms, lanterns and traditional Chinese clothing. Check into Hare-Tabi Traveler's Inn, a modern capsule hotel right in the centre of Chinatown.
New York City, USA
New York City, USA
Flushing is undoubtedly NYC's best Chinatown. All the way at the end of the number 7 subway line, this Queens neighbourhood is home to the largest Chinese population in the city – and the flavourful food is worth the trip alone. Be sure to hit up plenty of dumpling stands, tea houses and bakeries, where you'll find the best egg custard tarts in the city. The Asiatic Hotel is located just 250 metres from Main Street in Flushing.
Kuala Terengganu, Malaysia
Kuala Terengganu, Malaysia
It makes sense that a seaside city as pretty as Kuala Terengganu has such a good-looking Chinatown. Many of the centuries-old shophouses have intricate wood carvings and bright murals painted on the alley walls. There's even a lane with a rainbow of umbrellas hanging between the buildings. But KT– as it's often called – isn't just about looking good. It's a foodie city, and the heavenly seafood dishes extend to Chinatown's narrow alleyways. Stay right in the midst of it all at The Rise Room.
Birmingham, England
Birmingham, England
Birmingham's Chinese Quarter is all about eating and entertainment. After an afternoon refreshment of bubble tea and Hong Kong Black Forest cake, scout out your favourite restaurant on the winding market streets. There are plenty to choose from, with Northern Chinese, Malaysian menus available. The clubs start filling up after dinner, or you can head to one of the local karaoke bars. Check into the Macdonald Burlington Hotel, located a 10-minute walk from the Chinese Quarter.
Sydney, Australia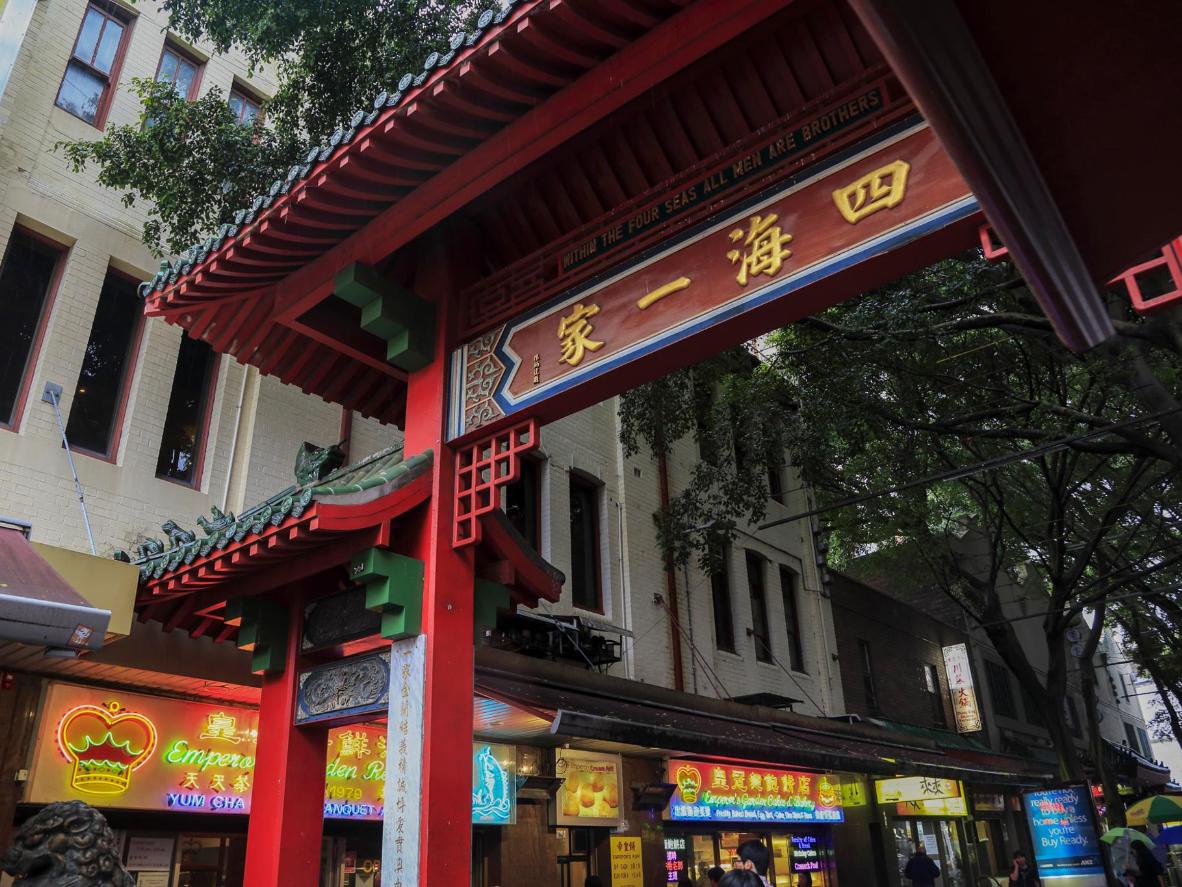 Sydney, Australia
Sydney's Chinatown centres around the pedestrianised Dixon Street, where stalls and restaurants create a sort of outdoor mall with vivid light installations hanging overhead and a traditional Paifang (Chinese gateway structure) at each end. You'll find not only Chinese food here but dishes from all of Southeast Asia. For a post-feast stroll, seek out the area's tree trunk sculpture by artist Lin Li – it was created in 1999 to bring good fortune to the Chinese community. The Ultimo is a chic, minimal hotel in the heart of Chinatown.