The UK's wealth of great road trip destinations mean it can sometimes be hard to know where to start. So to set you on your way, we've compiled a handy guide to one of the country's best regions for road trips: the Cotswolds. In it, you'll find five of the area's most beautiful towns and historic villages, and some popular things to see and do while you're there*. With an itinerary packed full of sights and activities planned out, you're free to focus on the more important things – like putting together the perfect road trip playlist.
Old town architecture in Burford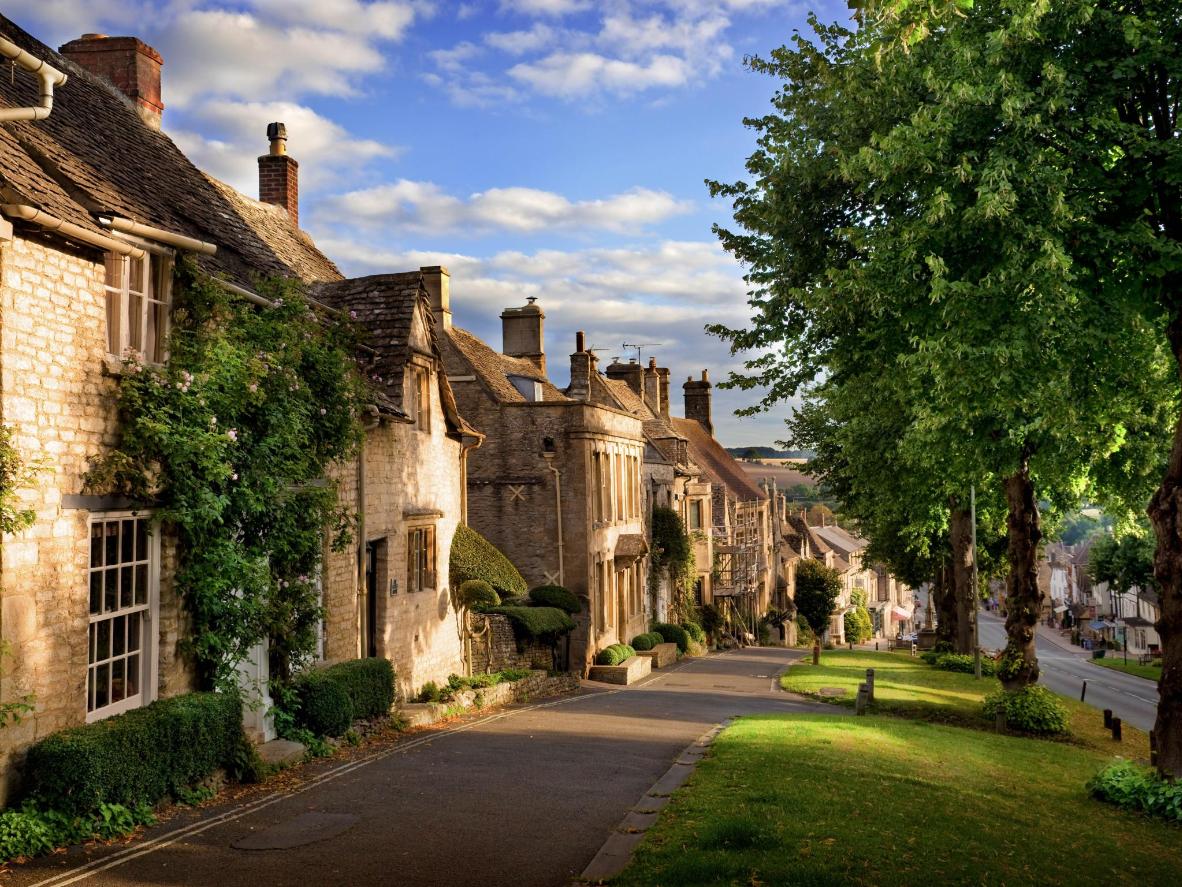 Take a photogenic journey down Burford Hill
Known as the gateway to the Cotswolds, the medieval town of Burford is the ideal place to start your road trip through the region. Rows of buildings made from beige-coloured Cotswold stone provide Instagram-friendly photo opportunities around every corner here, particularly on Burford Hill and the high street. It's well worth popping into some of these charming old buildings too. They're home to a range of independent businesses, including welcoming country pubs, vintage sweet shops and the family-run Huffkins Bakery and Tearoom, which has been serving up afternoon tea since 1890. Make yourself at home in the heart of the town at the Highway Inn.
Riverside scenery in Bourton-on-the-Water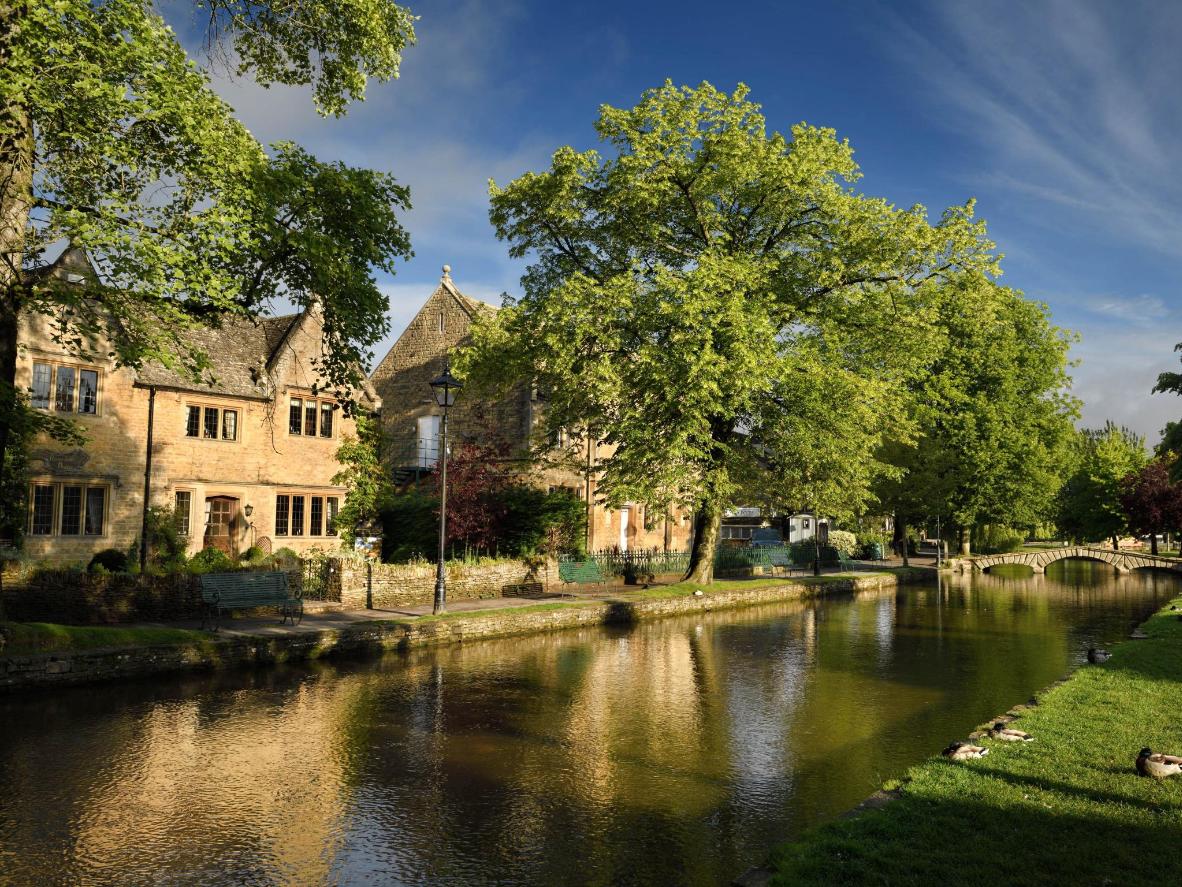 Stone cottages line the River Windrush in the 'Venice of the Cotswolds'
With low-lying arched bridges crossing a gently flowing river, the 'Venice of the Cotswolds' is a more-than-fitting nickname for Bourton-on-the-Water. This little village is made for lazy strolls along the shallow River Windrush, which runs through a high street lined with little cafés, beer gardens and handicraft shops housed in honey-coloured cottages. If you're on a tight schedule, you can see all of Bourton-on-the-Water in one quick visit to the Model Village – a carefully reconstructed replica complete with bonsai trees, water features and one-ninth-scale buildings made from the same stone as their full-sized counterparts. You'll find some more scenic views a couple of minutes down the road at Birdland Park and Gardens, where penguins, flamingos and many more species roam around their bucolic riverside habitats. For a riverside stay of your own, cosy up at Chester House Hotel.
Historical pub-hopping in Stow-on-the-Wold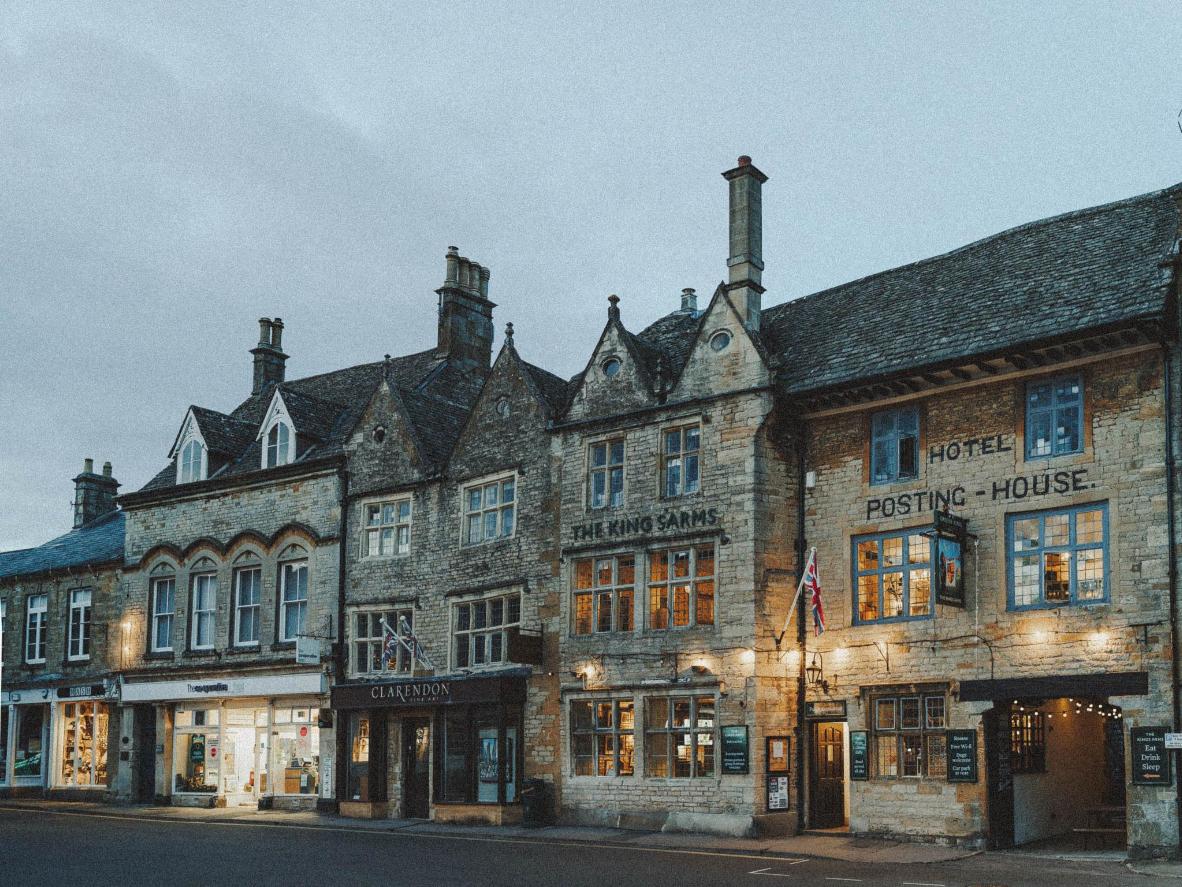 Stow's honey-coloured pubs ooze old-world charm
Drive ten minutes up the road from Bourton-on-the-Water, and you'll find yourself in the hilltop market town of Stow-on-the-Wold. Like many towns in the Cotswolds, Stow has plenty of welcoming pubs that have been serving visitors for centuries. Among them is the Porch House, a pub-restaurant said to date back to 947 CE, making it one of England's oldest inns. Another notable pub is the Kings Arms, sat on the corner of Market Square. It may be 500 years younger than the Porch House, but it's still brimming with history, having hosted guests ranging from King Charles I to James Corden. Be sure to take a break from the pubs to see St. Edward's Church too. The building's fairy-tale-like wooden doorway flanked by two ancient Yew trees is said to have inspired one of the locations in J.R.R. Tolkien's fantasy world. When you're ready for another drink, The Old Stocks Inn is just the place for craft beer and cocktails, before a good night's sleep in the rustic-chic rooms upstairs.
Countryside strolls in Chipping Campden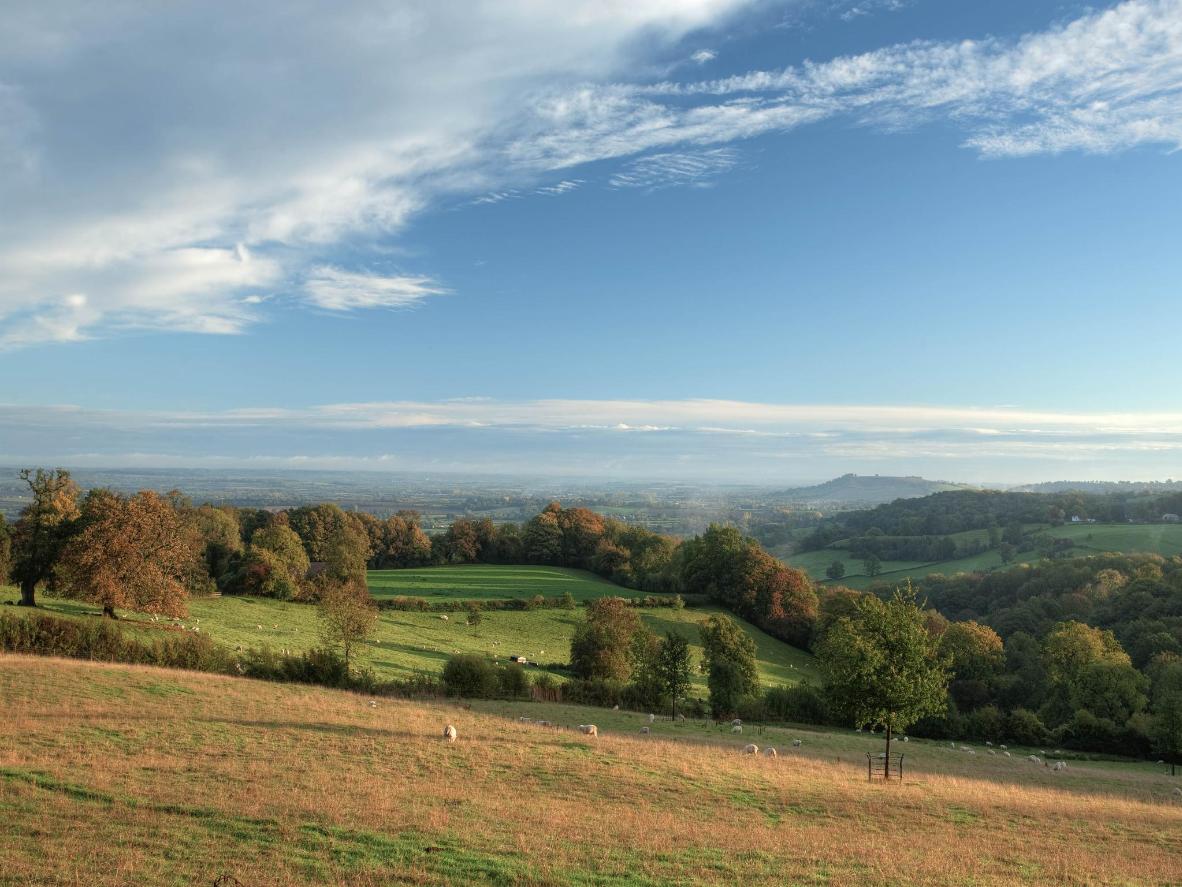 One of many rewarding views on a ramble around Chipping Campden
Whether it's a wander through stately gardens or a hike through the countryside, walking around Chipping Campden is a great way to explore the Cotswolds. One of the most popular routes is a three-hour loop starting from the 17th-century Market Hall, leading you through leafy woodland and up to Dover's Hill. This is a prime spot to take in sweeping views over the Vale of Evesham, before making your descent back into Chipping Campden. For a leisurely warm-down, head over to Hidcote Manor Garden. These National Trust grounds are filled with all kinds of rare trees and flowers, fountains and plant sculptures, and plenty of tucked-away benches to sit and admire them from. You'll have worked up an appetite while exploring – refuel with afternoon tea at Badger's Hall or a hearty dinner at Huxleys, before winding down at Eight Bells Inn.
A journey back in time in Winchcombe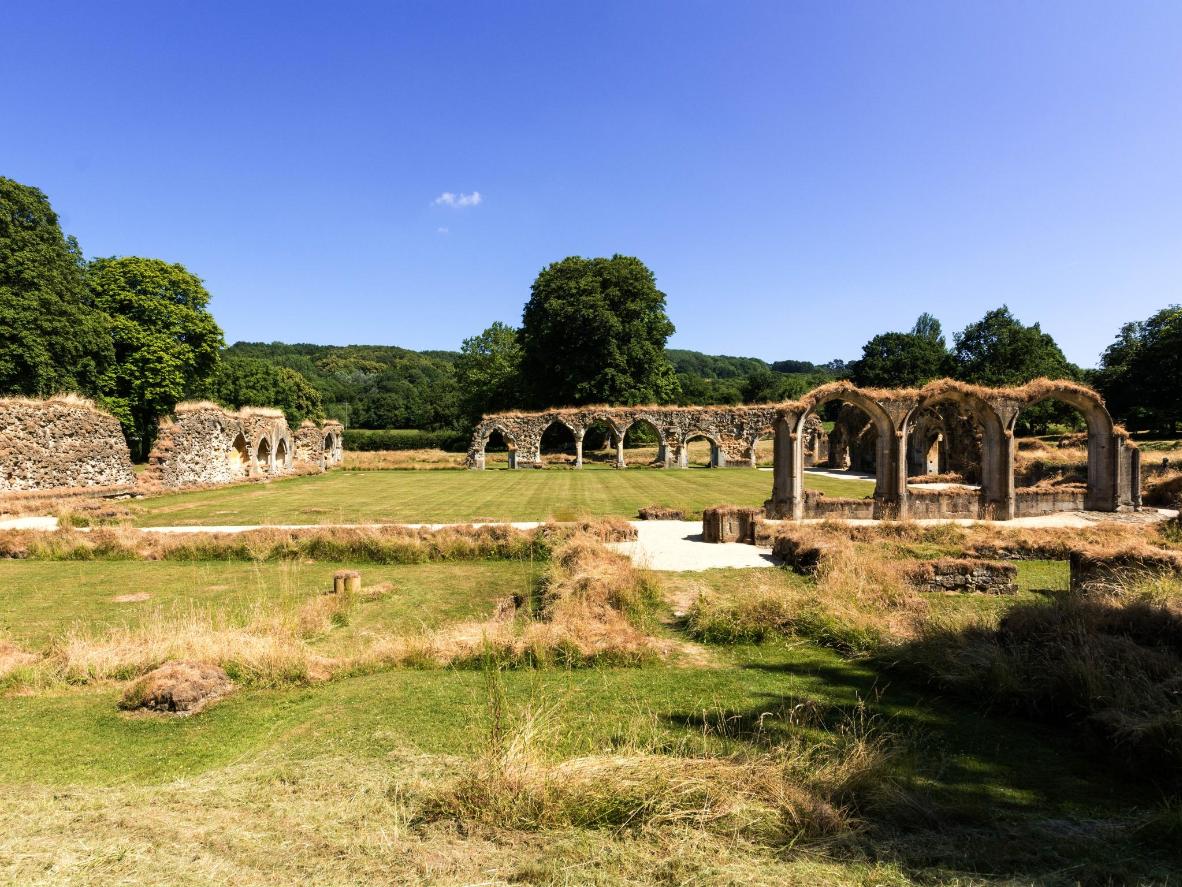 Delve into the Cotswolds' fascinating past at the remains of Hailes Abbey
A half-hour drive through the countryside will bring you to Winchcombe, where you'll have the chance to retrace the roots of the Cotswolds region and some of its earliest inhabitants. One fascinating site you can see on a long-distance walk here is Belas Knap Long Barrow, a Neolithic monument and burial chamber believed to be constructed by Stone Age settlers 5,000 years ago. Another historical relic worth ticking off your list is Hailes Abbey. Much of the original 13th-century abbey has decayed, but with some historical insights from the museum and a little of your own imagination, you can paint a picture of how this place might have looked hundreds of years ago. Make a little detour on your way back to Winchcombe to see the beautiful Sudeley Castle, before picking up a piece of Cotswolds' history for yourself from the local antique shops. The timber-clad Wesley House is a fittingly rustic place to round off your historical visit.
*Destinations featured were chosen as stops on a road trip route in the Cotswolds. Then the most popular feature of each city was calculated using internal endorsement data.