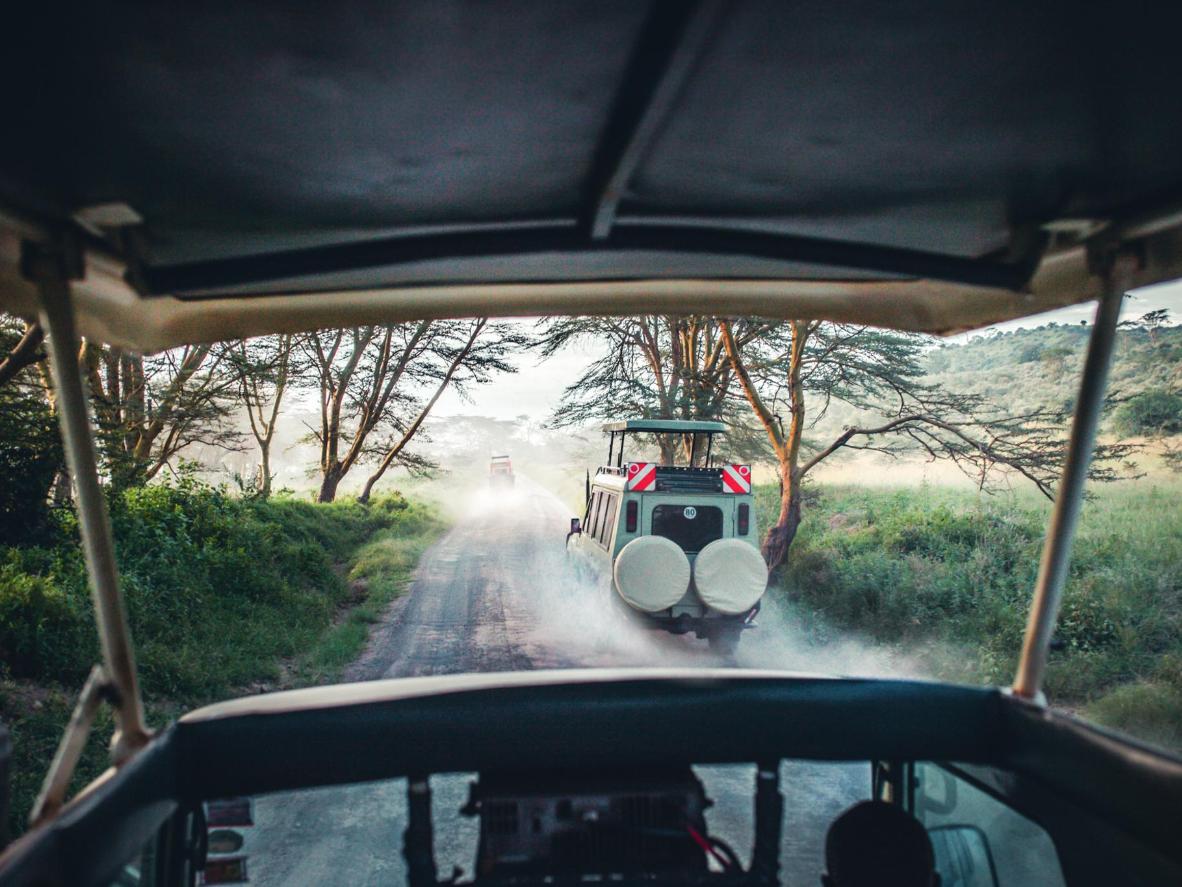 Safari drive on dusty roads in Tanzania
On a clear day in Moshi, the snowy peak of Africa's tallest mountain looms large in the distance. Mount Kilimanjaro draws climbers to this Tanzanian town, along with adventurers eager to explore the region's many natural wonders.
The bright blue Lake Chala welcomes day-trippers for monkey-spotting hikes, while the Kikuletwa Hot Springs are known for tiny fish that clean your feet as you swim. Those interested in indigenous culture can also visit Maasai tribes and Chagga villages nearby.
Tanzania Market selling fresh fruit
Moshi itself has plenty to enjoy – Swahili meals such as Nyama Choma, a dish of grilled meat and barbecued bananas, pairs perfectly with locally brewed beer. Local markets stalls display traditional clothing and fresh fruit, and the famed coffee farms serve up fresh Tanzanian Arabica.
The best time to go
It can take between five and nine days to summit Kili
January to February and June to October are the best times to visit Moshi. During these dry months, you'll get cloudless skies in the morning and evening, and the most consistent weather for climbing and other outdoor activities.
The most incredible places to stay
The Secret Garden Hotel – Moshi, Tanzania
The Secret Garden Hotel
One of the best things about this hotel is the mountain views out towards Kili. You can watch the sunset over the peak each night from your own balcony, and then again the next morning over breakfast.
Kaliwa Lodge – Moshi, Tanzania
Kaliwa Lodge
Kaliwa Lodge sits right near the entrance to Mt. Kilimanjaro National Park, just a few minutes from Machame Gate. Private terraces look out over the forest, with the lodge's big wooden deck offering up unobstructed views of the peak. The relatively remote setting makes it a spot to really unwind.
Altezza Lodge – Moshi, Tanzania
Altezza Lodge
This lodge is conveniently in the centre of Moshi, within walking distance of many restaurants and cafés. The rooms are comfortable and clean, with soft beds that are a real treat after days spent hiking or on safari. There's also a nice garden and pool area with a hot tub.