Florida's reputation for hedonism and parties precedes itself. Combine this with some of the USA's best beaches, and it's easy to understand why travellers from all over flock to its glitzy coastline. Those looking for long days and nights out on the beach may find these Florida destinations do the trick.*
Panama City Beach, Panama City
This beach is 14 kilometres of fine, powder-white sand
Visiting Panama City Beach is a rite of passage for many spring breakers but this long curl of sand is also a popular choice for beach and party goers in general, clocking up 14 kilometres of fine, powder-white sand. Days are best spent with a drink in hand, strolling along the sand and working yourself up into a party mood by stopping at one of the many beach bars and restaurants. Sharky's Beachfront Restaurant plays up to the tropical theme with thatched, cabana-style decor and a cocktail that consists of half of a watermelon filled up with liqueur, There's also Harpoon Harry's, which draws a younger crowd for its frozen drinks and central location. When dusk descends, most people flock to Club La Vela (the USA's largest nightclub), the raucous Tiki Bar or Spinnaker Beach Club for live music. When the night's finally over, head back to this beachside resort.
Miami Beach, Miami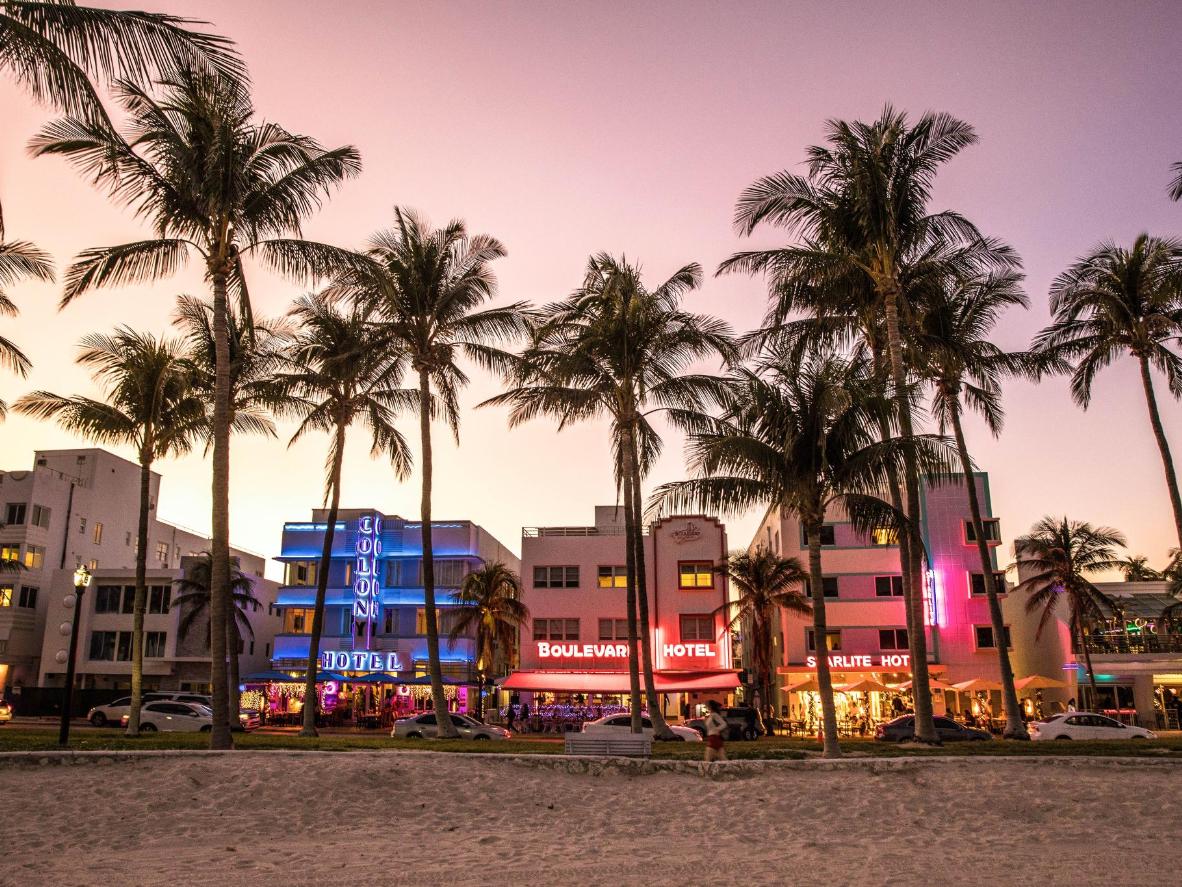 Head along Ocean Drive for a sultry and glittery shot of Miami Beach
Miami Beach is internationally recognised for its sand, style and selection of parties. Its white sand is crested by aquamarine waters and backed by glassy high-rises and opulent art deco mansions. But if anything's going to get you up and moving, it's the nightlife on offer. South Beach is the most esteemed and glamourous area for going out; club LIV is a tour de force on the scene and often a star-studded affair with celebrities like Calvin Harris and the Kardashians having graced its dance floor. For those who want something a little more playful, BASEMENT at the Edition is a neon-lit disco complete with a bowling alley and ice skating rink. And the best way to start off any night? A cocktail at The Mondrian's Sunset Lounge for views of Miami's famed sunsets. Stay at Loews Miami Beach Hotel, which also has an excellent cocktail bar.
Daytona Beach, Daytona Beach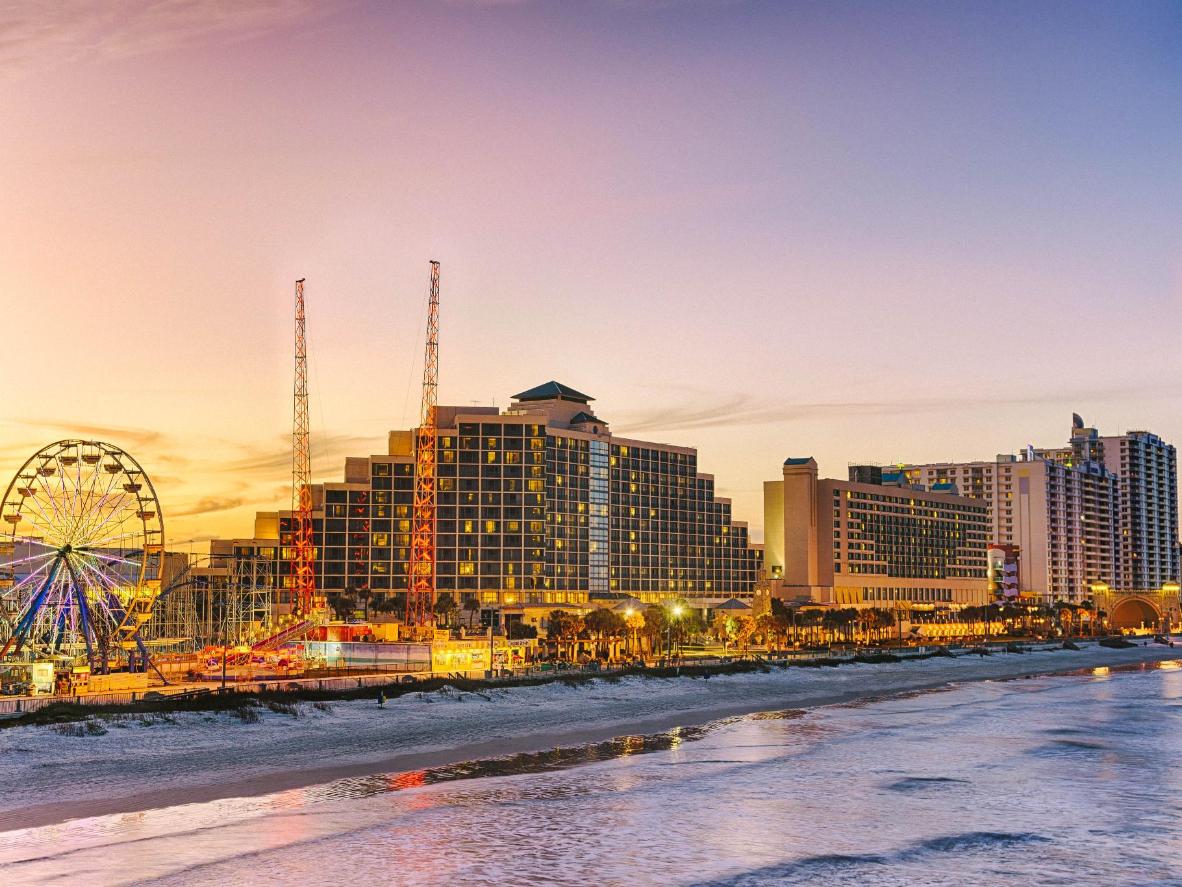 Daytona Beach is the birthplace of NASCAR and a popular beach town to go out in
Daytona Beach isn't your ordinary beach. The birthplace of NASCAR racing, it's a destination for motor-enthusiasts and spring breakers, with a fast-paced atmosphere that extends to the nightlife. You'll find most of the high-octane clubs on Seabreeze Boulevard; Razzle's is Daytona's largest club (in the heart of the Beachside Party District), while the 509 Lounge is a more sultry affair (though you can head to the lounge's more lively upstairs bar when you're looking to notch up the tempo). Daytona's motoring association also means that there are plenty of biker bars that specialise in live music and rowdier atmospheres – try Boot Hill Saloon or Froggy's Saloon, both on Main Street. Spend the night at The Streamline Hotel – Daytona Beach with its year-round outdoor pool.
Hollywood Beach, Hollywood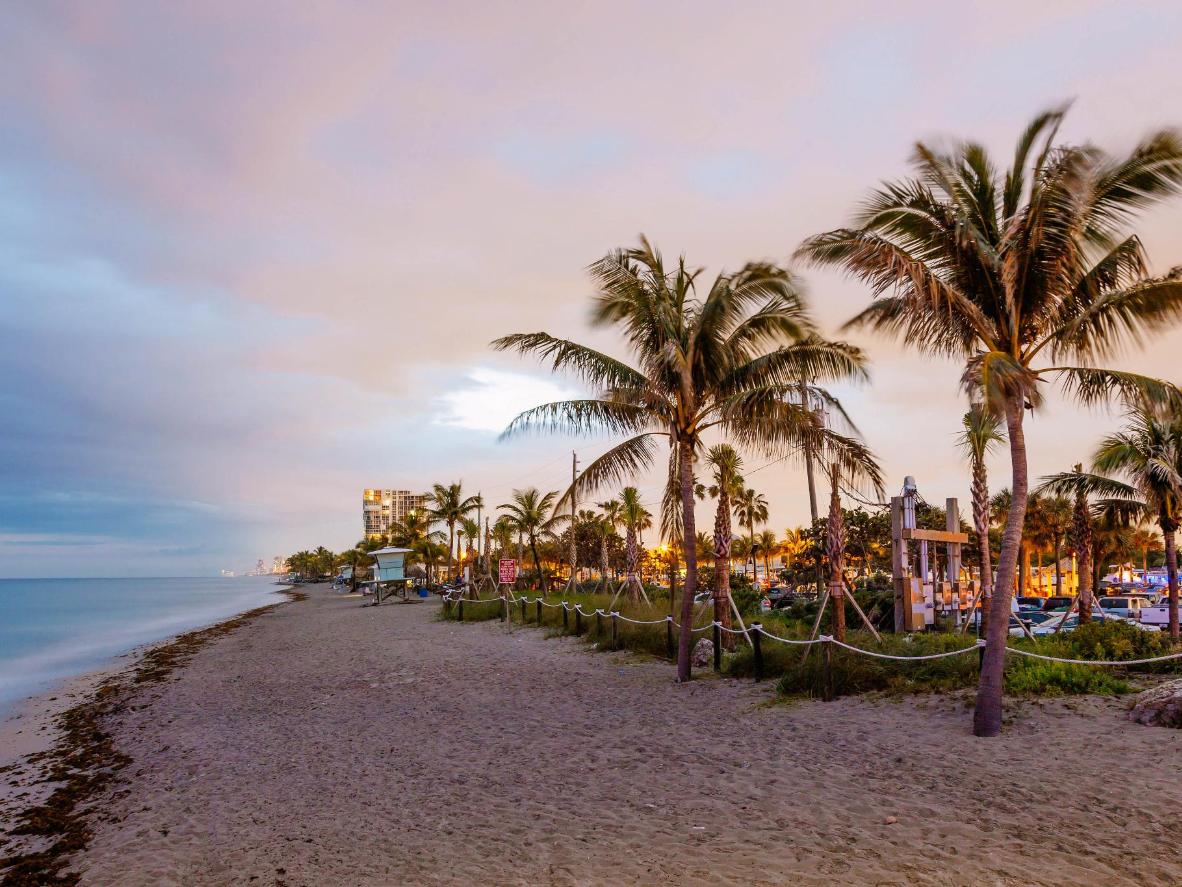 Have a drink on Dania Beach at dusk for a quieter start to the night
A lick of white sand fringed by turquoise waters and swaying palms, coupled with a range of bars and clubs in the eponymous city itself, and Hollywood Beach certainly lives up to its glamorous name. If you're going out and are a lover of Latin music, you'll be well catered for here at venues like the Spice Resto Lounge in town. Then there's Amsterdam Bar and Restaurant, a neon-lit restaurant by day and a popular lounge and bar by night. When you've exhausted yourself, the Margaritaville Hollywood Beach Resort and its 11,000-square-foot spa will restore you.
Fort Myers Beach, Estero Island
A swim and then a cocktail at sundown is always in order in these parts
Going out in Fort Myers Beach is a relaxed affair courtesy of its island location. Here, wide white sands stretch for the entirety of Estero Island past fishermen's cottages, family-friendly resorts and parasailers bobbing out on the water. But while there is a more downtempo feel to this beach – when the sun goes down, there's plenty to get your pulse racing. The best way to do so is bar-hop; start at Beached Whale for a beer or cocktail and live music, then head to Doc Fords and its dockside parties or try the ever-popular Lani Kai Island Resort, which is the beating heart of the area's party scene. Come the end of the night, Tiki on the Beach is a quieter spot to stay.
**The data scientists at Booking.com dug into internal data to find the most highly rated destinations in Florida for 'beaches' and 'nightlife'.