Finding inspiration for entertaining and enjoying quality time with your grandchildren can be tricky. It's important to choose activities that will engage, inspire and entertain in equal measure, like a factory tour featuring a glass elevator that takes you to the top of a huge custom car tower or picking berries outside Berlin.
So for inspiration for how to spend quality time with your grandchildren, here are five suggestions for an excellent day out with the grandchildren in Germany.
Fruit picking, Ahrensfelde
Fruit picking is a great way to teach children about the origins of food
For an outing that's enriching on several levels, fruit picking is an opportunity to teach children about the origins of food – all the while tasting beautifully fresh, sun-ripened berries and enjoying spending time outdoors. It's a great multi-generational day out, and will allow you to relive any fond memories you may have of going berry picking when you were a child. From June to October, fruit farms all over Germany welcome visitors to pick their own. And while you have plenty to choose from, one that's within easy reach of Berlin is Selbstpflückeparadies Elisenau. Here, you'll find strawberries, cherries, raspberries, blueberries, apples and more, depending on what's in season (just try not to have a big breakfast beforehand). After driving 40 minutes back to Berlin, you can extend the adventure into the evening by staying at the family-friendly and vibrantly decorated Capri by Fraser Berlin.
VW Factory and Autostadt, Wolfsburg
VW Factory and Autostadt is the largest auto plant in the world, employing 1,140 robots
Nothing will inspire curious children like a peek inside an enormous factory, particularly when it's a Volkswagen factory full of shiny, expertly made cars. VW Factory is located one and a half hours by train from Berlin and is the largest auto plant in the world, employing 23,000 people and 1,140 robots. Take the grandchildren on a tour of the production process and hop into the glass elevator, whisking you 160 feet into the air above a tower of hundreds of custom cars. Check out the adjacent 'Autostadt', too, a theme park dedicated to cars, as well as the factory's fascinating museum. Stay a five-minute drive from the factory at the family-friendly Parkhotel Wolfsburg.
Tropical Islands Water Park, Krausnick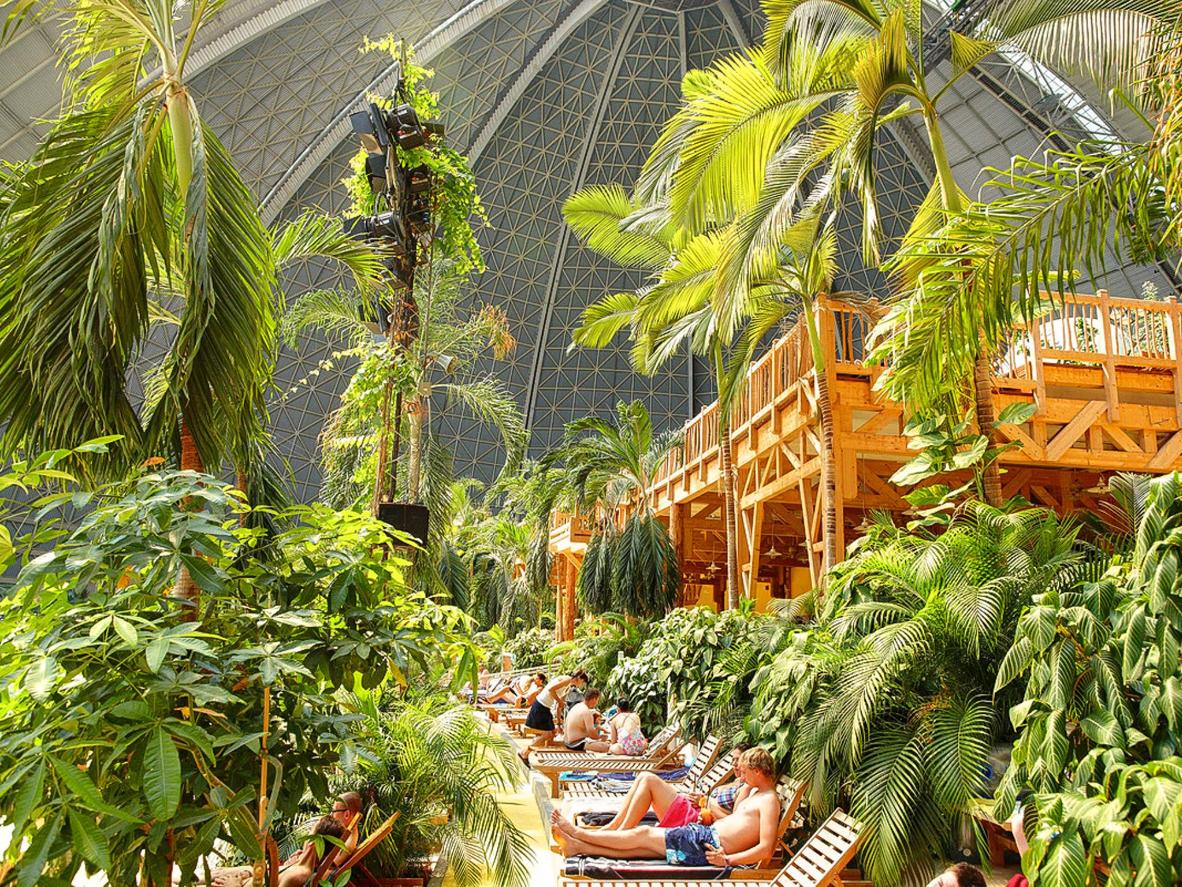 Exotic greenery reaches towards the glass domed ceiling at Tropical Islands Water Park
The selection of water parks in Germany is quite something but Tropical Islands is the real star of the show, being the largest indoor water park in the world. Though it's only 70km south of Berlin, it feels like you could be in the tropics, with sandy beaches and a rainforest area of palm trees and exotic plants that reach towards the enormous glass domed ceiling. The park also has several restaurants, its own botanical garden where vividly coloured birds fly overhead, camping grounds (in a desert-themed area) and playgrounds. If you don't manage to squeeze it all into one day, you can spend the night at the resort itself – there's a range of affordable accommodation available ranging from safari-style lodges to luxury suites.
Lübbenau, The Spreewald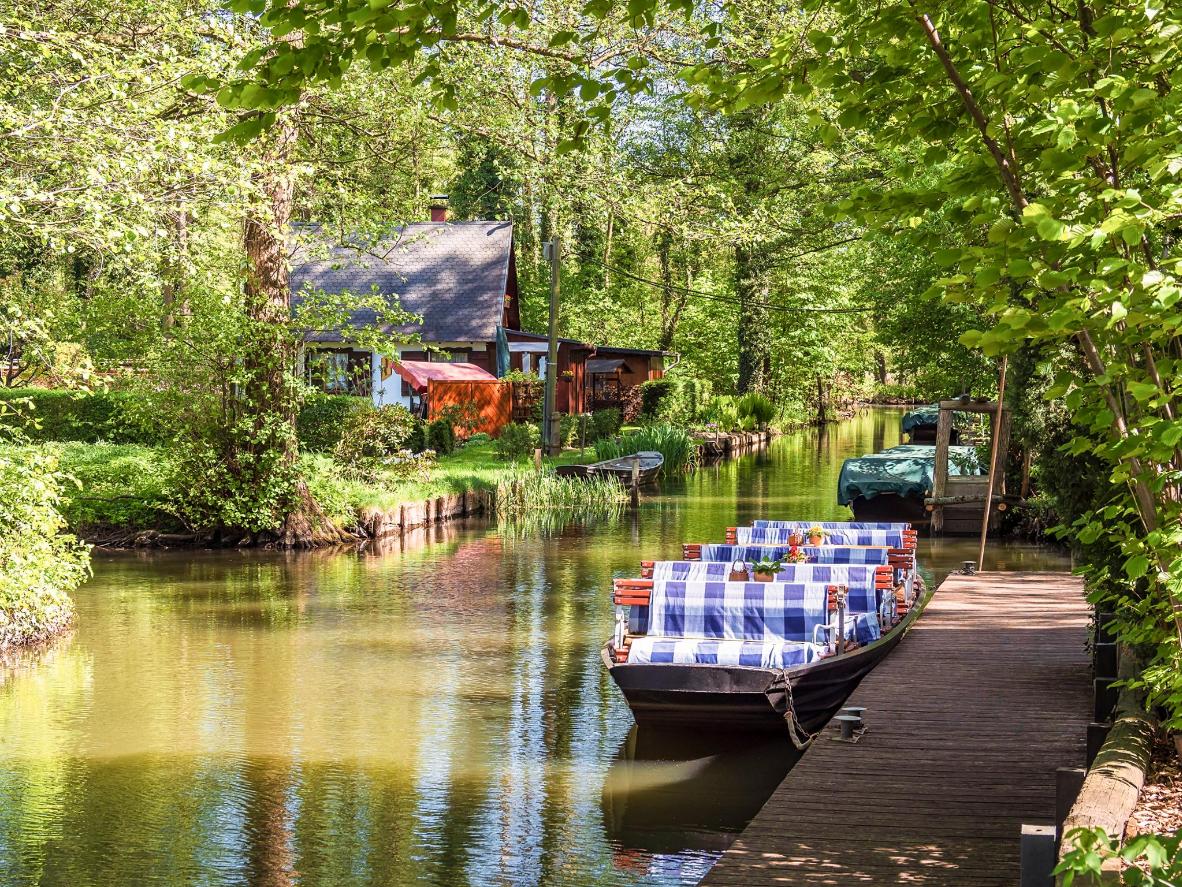 Go on a family punt tour through the Spreewald's vast network of waterways
Another easy day trip from Berlin, Spreewald is a Biosphere Reserve southeast of the capital that covers 47,500 hectares with enchanting forests, peaceful lakes and sparklingly clear rivers. During spring and summer, you can take a family boat trip through the reserve's vast network of waterways – one of the most popular boating options is a punt tour, starting in the town of Lübbenau (within the reserve). These tours take between two to four hours including breaks, which can be spent with a picnic while sun trickles through the trees, birds sing and dragonflies flutter across the water. You can also explore the region by kayak or canoe, available to hire from Lübbenau and other designated spots. Or you can cycle the various biking trails that cut through the reserve's forested areas and wetlands, including the beautiful Gurkenradweg or 'Gherkin Bike Trail'. After your outdoors adventure, check into the family-friendly Spreewelten Hotel (located right next to the Spreewelten Bad, a water park that could make for another adventure the following day).
Movie Park, Bottrop-Kirchhellen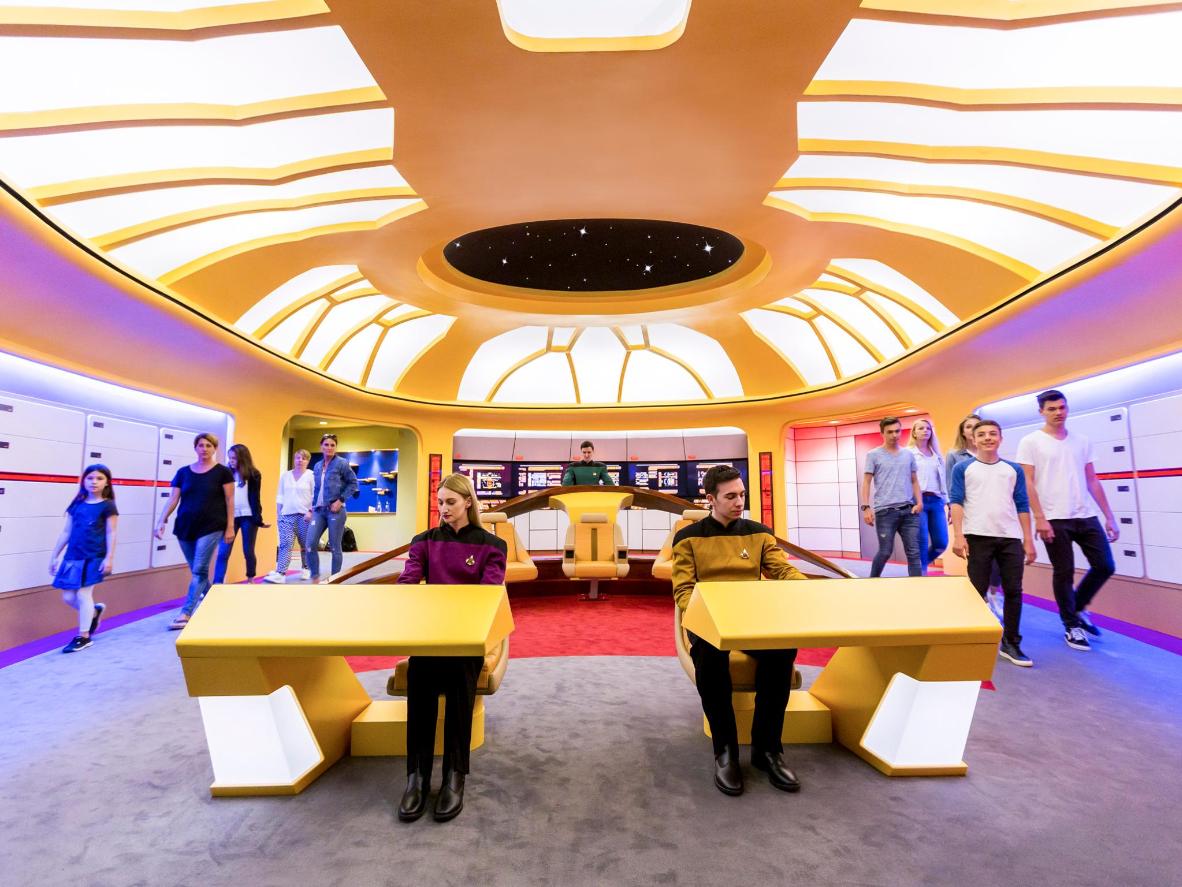 Movie Park is a theme park divided into areas based on TV and cinema classics like Star Trek
Just over an hour's drive north of Düsseldorf, Movie Park is a huge theme park divided into seven areas based on TV and cinema classics. Highlights include Nickland (where the kids can meet Nickelodeon characters like SpongeBob SquarePants), Starship Enterprise for children who can't get enough sci-fi, and Hollywood Street Set (where you'll discover the Crazy Cops New York stunt show). Rides range from the exciting 'Dora the Explorer' log-flume to the gentler Paw Patrol rides – do try to buy a speedy pass, as it will save you time on queuing so that you get more grandparent/grandchild quality time. Stay a 12-minute drive away from the Movie Park at Hotel Jammerkrug, which has family rooms and a continental breakfast.