In addition to sublime tropical beaches and the world's largest rainforest, Brazil is also home to a fascinating mix of architecture and landmarks. Many of its historic towns and cities possess UNESCO World Heritage status, on account of their magnificent churches, houses and cobblestone streets backed by palm trees and azure ocean. To admire some of Brazil's rich heritage, featuring a blend of European, African and Amerindian influences, head to any of these six must-see historic towns and cities.
Paraty, Rio de Janeiro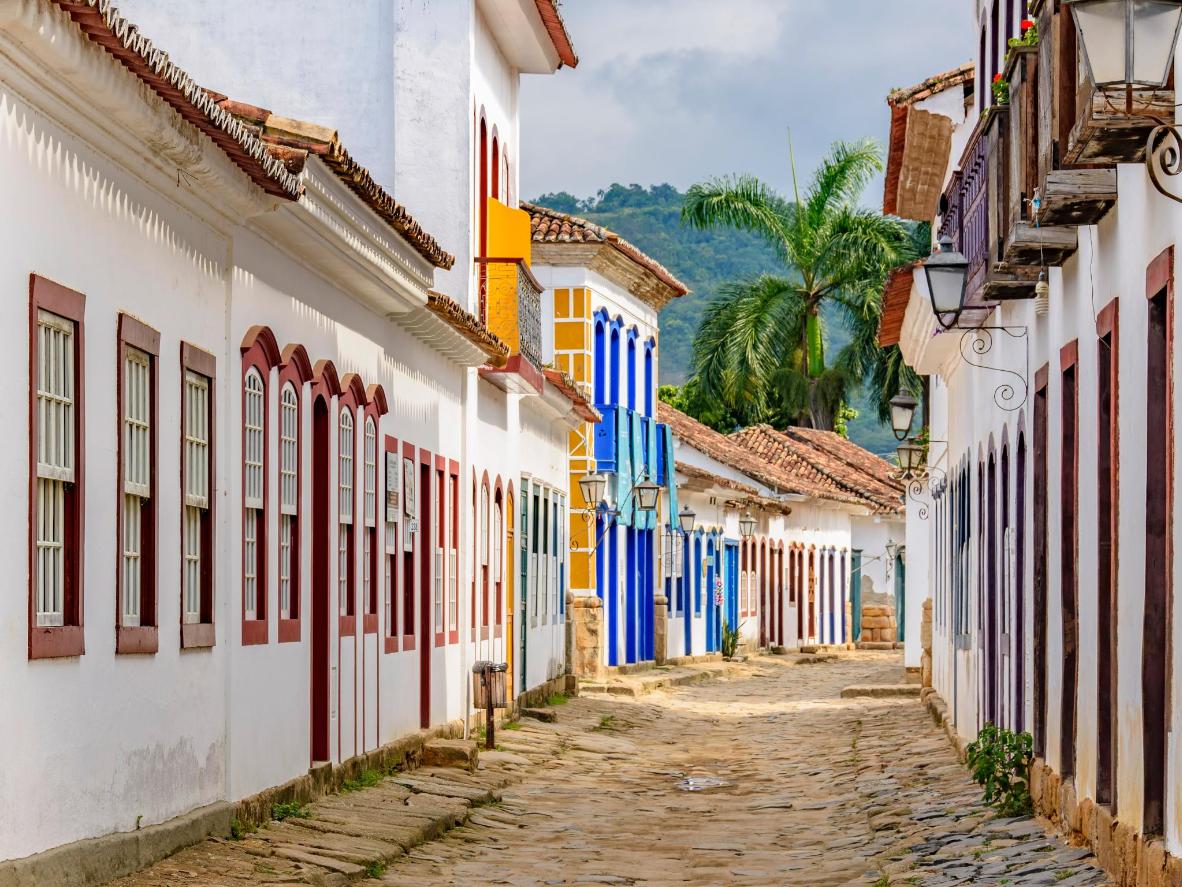 Paraty, Rio de Janeiro, Brazil
Backed by rainforest-cloaked mountains and facing azure ocean, the captivating colonial town of Paraty is beautiful to behold. It was once a bustling port town exporting gold from Brazil to Portugal, and is now a popular travel destination with a peaceful allure. Watch brightly coloured boats bob peacefully along the shore, then follow the winding, car-free cobbled streets that beckon you towards the old town; Paraty boasts a beautifully preserved historic centre that is a UNESCO World Heritage Site. Hire a guide to learn more about the town's history and its pretty, white- and pastel-painted architecture. Then set off to explore the town's exquisite natural surroundings – hiking and cycling trails criss-cross through the rainforest, while numerous paradisiacal beaches (many accessible only by boat) await. Check into the elegant Pousada da Marquesa in the old town.
Ouro Preto, Minas Gerais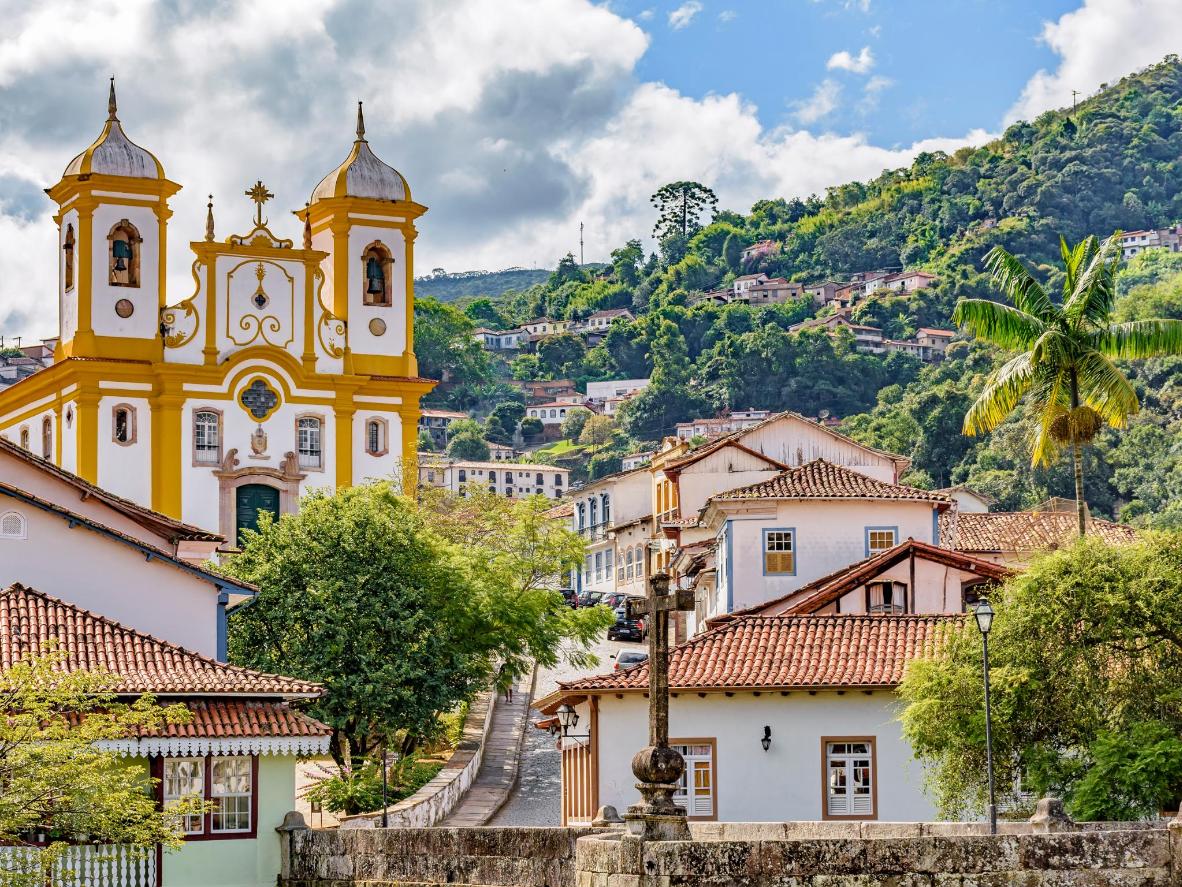 Ouro Preto, Minas Gerais, Brazil
During the 18th century, Ouro Preto (meaning 'Black Gold') was the centre of the Brazilian Gold Rush. After the gold ran out, the town's fortunes declined but many of the exquisite architectural monuments built on the back of its former prosperity remain to this day. Wander its narrow, hilly, UNESCO World Heritage streets admiring its bounty of beautiful fountains and baroque igrejas (churches) decorated with real gold; the opulent Basílica Nossa Senhora do Pilar is decorated with over 440 kg of gold and silver. Treat yourself to a stay at Hotel Solar do Rosário, and relax in the rooftop pool after a stroll through the town.
Mariana, Minas Gerais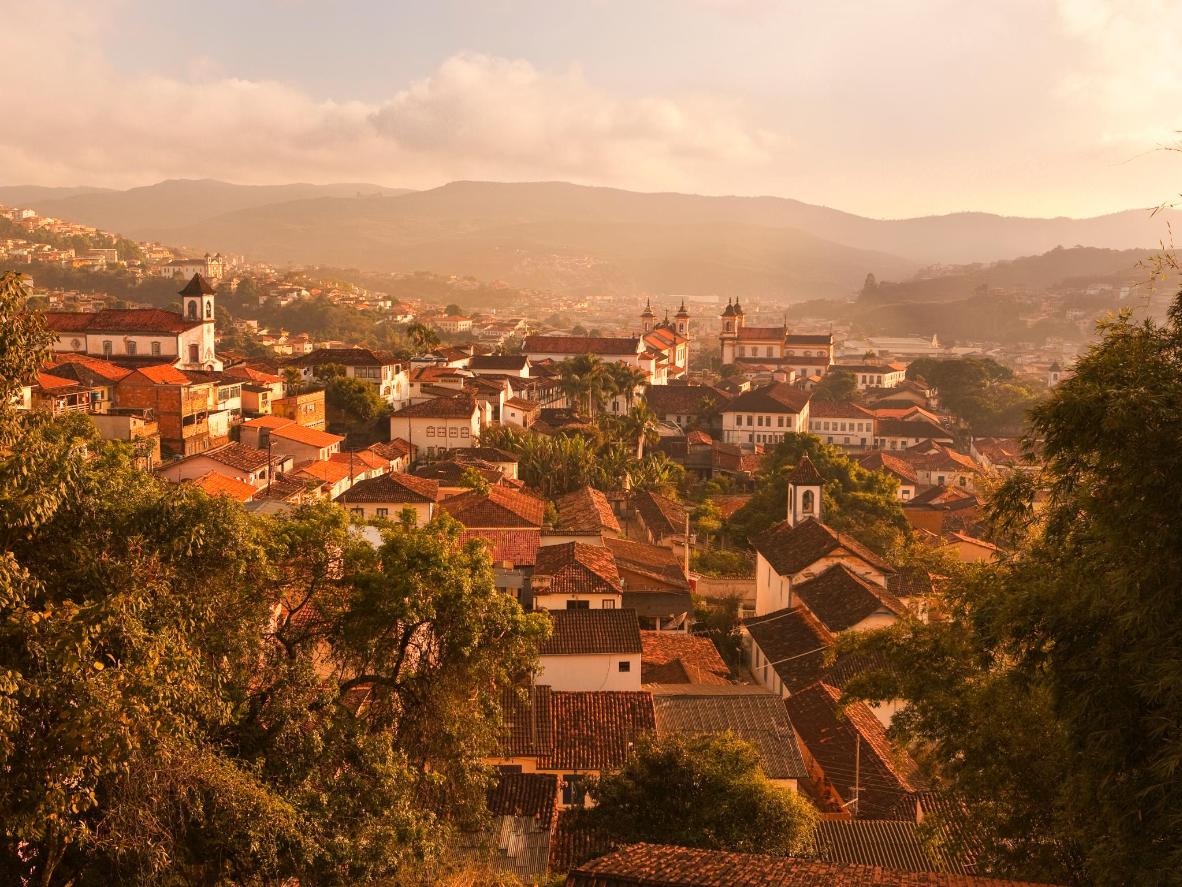 Mariana, Minas Gerais, Brazil
Baroque churches, elegant 18th-century white houses with painted doorways, art nouveau wrought iron balconies and terracotta roofs – the dainty town of Mariana offers much of the charm of Ouro Preto but on a smaller scale. Just a half-hour drive from the latter, its leafy, peaceful plazas and cobblestone streets can be explored in just a few hours – making it a great day trip for travellers keen to explore the region. It's also the oldest city in Minas Gerais, and was the first city and first capital of the state. Wake up to a view of Mariana's terracotta rooftops outside your blue bedroom shutters at Pousada Ouro Real.
Congonhas, Minas Gerais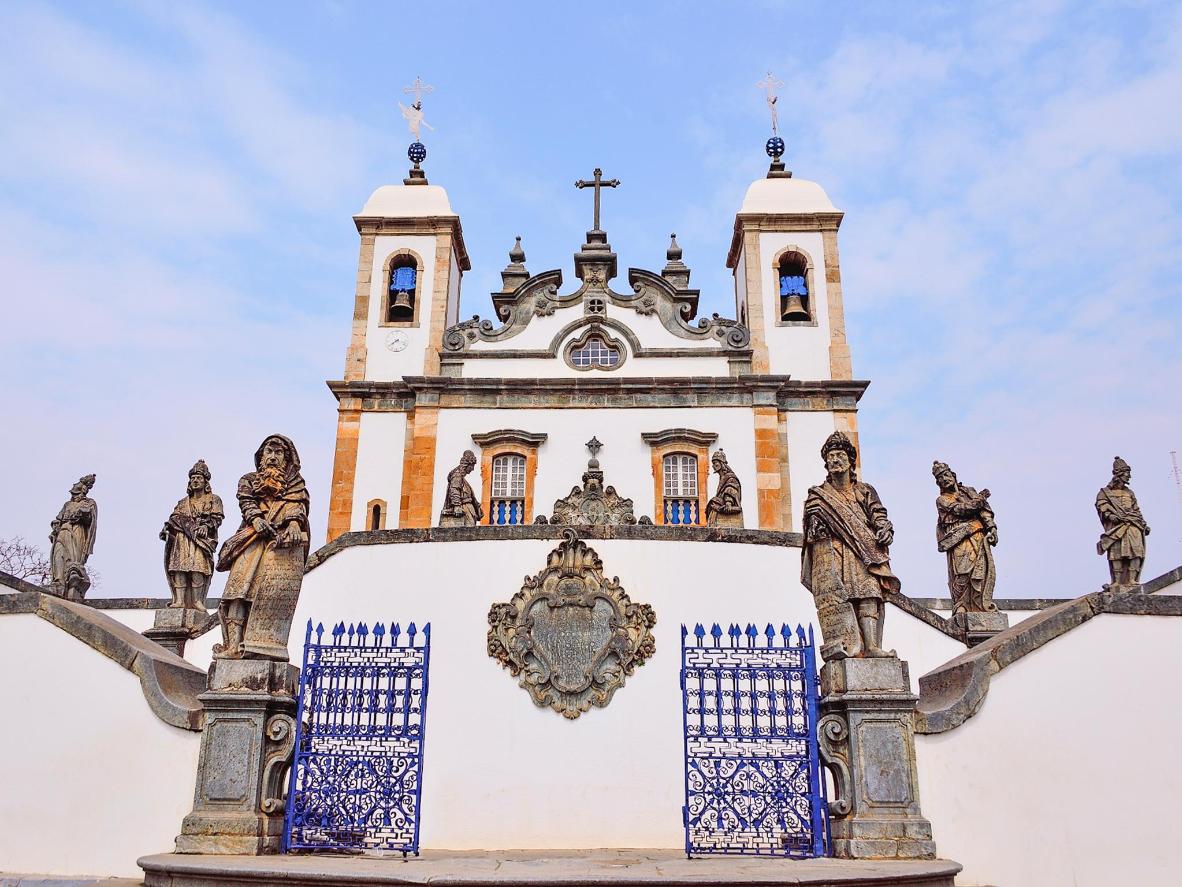 Congonhas, Minas Gerais, Brazil
Sat on a hill overlooking the town of Congonhas, the UNESCO World Heritage Basilica of Senhor Bom Jesus de Matosinhos is the town's main attraction – and for good reason. Fans of art and architecture will delight at the sight of this grandiose church's soapstone statues, cedarwood carvings by celebrated sculptor Aleijadinho and magnificent Italian rococo interior. Stay just a few hundred metres from the Basilica at Pousada Circuito dos Inconfidentes.
Olinda, Pernambuco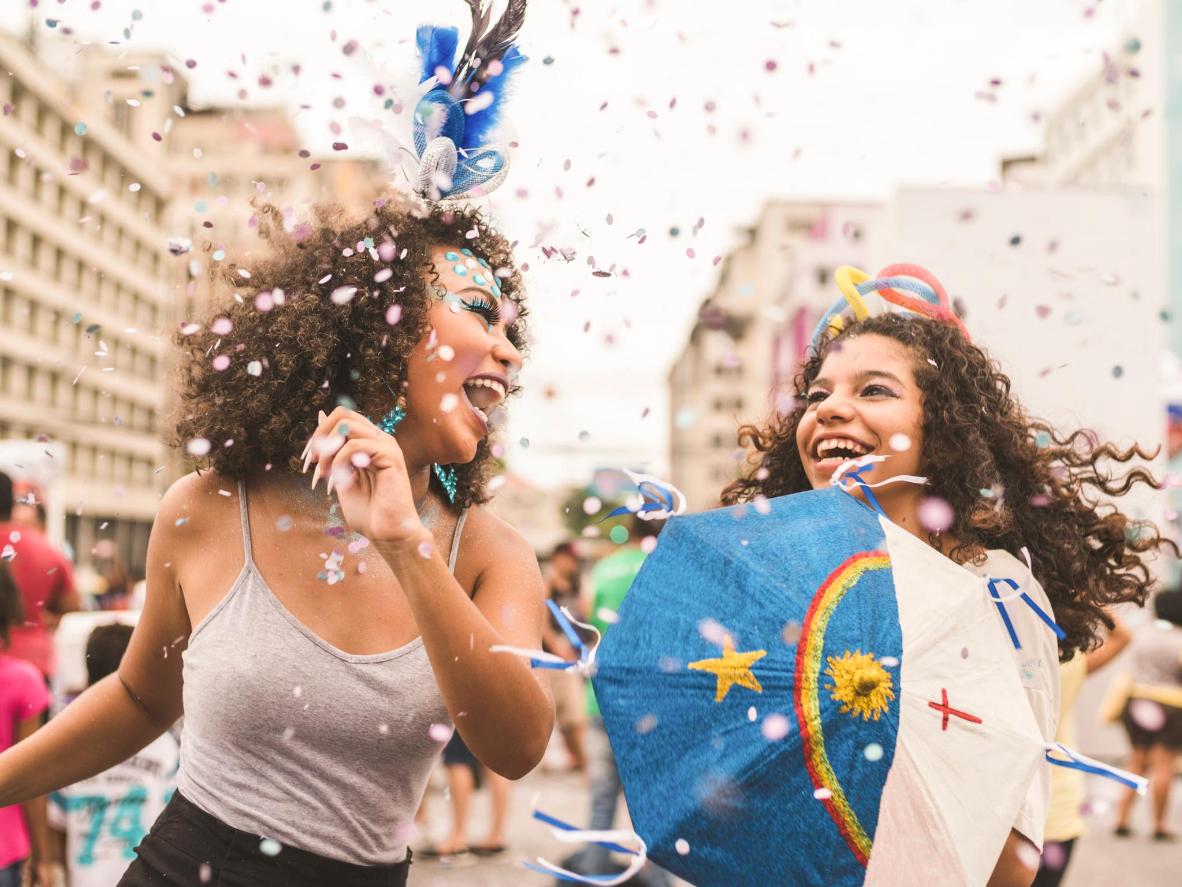 Olinda, Pernambuco, Brazil
On the northeast coast of Brazil, The town of Olinda's historic centre is treasured as one of the most perfectly preserved of its kind in Brazil. It is characterised by steep streets lined with 18th-century baroque architecture, colourful building facades covered with murals, art galleries and palm trees and tropical scenery. Head up to the old town viewpoint from which you can see the nearby city of Recife in the background. And visit during the famous Carnival of Olinda in February, rivalling the nation's biggest celebrations for its atmosphere and yet free of charge (unlike in Salvador or Rio). Expect Afro-Brazilian music, hundreds of street parties and vibrant street style. Stay in a 19th-century house in the historic centre at Pousada dos Quatro Cantos.
Salvador, Bahia
Salvador, Bahia, Brazil
The enchanting coastal city of Salvador was the first capital of Brazil (between 1549 and 1763), but is now known for its blend of European, African and indigenous cultures. Its impeccably preserved Pelourinho neighbourhood forms the UNESCO World Heritage city centre, and lays claim to imposing Renaissance structures, baroque churches, palaces and multi-coloured, stucco houses. Wander the cobbled streets leading to pretty, palm-filled piazzas, and stop at popular vantage points to take in the equally colourful, turquoise-ocean backdrop. One of the best times to visit is during the annual Carnival (occurring from mid-end February), renowned for its record-breaking street parties and incredible Afro-Brazilian beats. Stay at the boutique Bahiacafé Hotel in the heart of Pelourinho.