We've all been there. Week after week filled with grey days and now you've forgotten what the warmth of a summer's day even feels like. But if you thought a long-haul flight was your only way to escape the gloomy weather, then think again. We've picked out a few of the best spots in the UK to enjoy a sunny staycation.
Tenby, Wales
Tenby's colourful coastline makes a stroll in the sun even more enjoyable
Encircled by a charming medieval wall, Tenby is a small town in Pembrokeshire, South Wales, with an average of 1,667 hours of sunshine a year. Its pretty cobbled streets are lined with museums, art galleries and cute cafés with outdoor seating. For an extra dose of culture, you can learn all about the town's history on various guided tours, which focus on everything from ghost walks to the origins of Tenby itself. The town is surrounded by three beaches which are perfect for sandy strolls with an ice-cream in hand. If you're feeling particularly energetic, take a hike along the beautiful Pembrokeshire Coastal Path to take in great views of Saundersfoot Bay and encounter rare birds and flowers. Rest up at The Townhouse, a short walk away from the centre of town and South Beach.
Dundee, Scotland
Go dolphin-spotting across the River Tay
Scotland's fourth-largest city is also its sunniest, with even the winters known for being remarkably mild compared to the rest of the country. Go for a stroll along Dundee's waterfront to explore the RRS Discovery, HMS Unicorn – two historic ships converted into museums – as well as the V&A Dundee art gallery. Take a break from wandering at a traditional tearoom for a slice of Dundee cake, a famous local export made with cherries, sultanas and almonds. You can also explore the incredible surrounding wildlife with a boat trip across the River Tay, where you'll have the chance to spot grey seals and dolphins in their natural habitat. Stay in the heart of the city at Westport Serviced Apartments.
Isle of Wight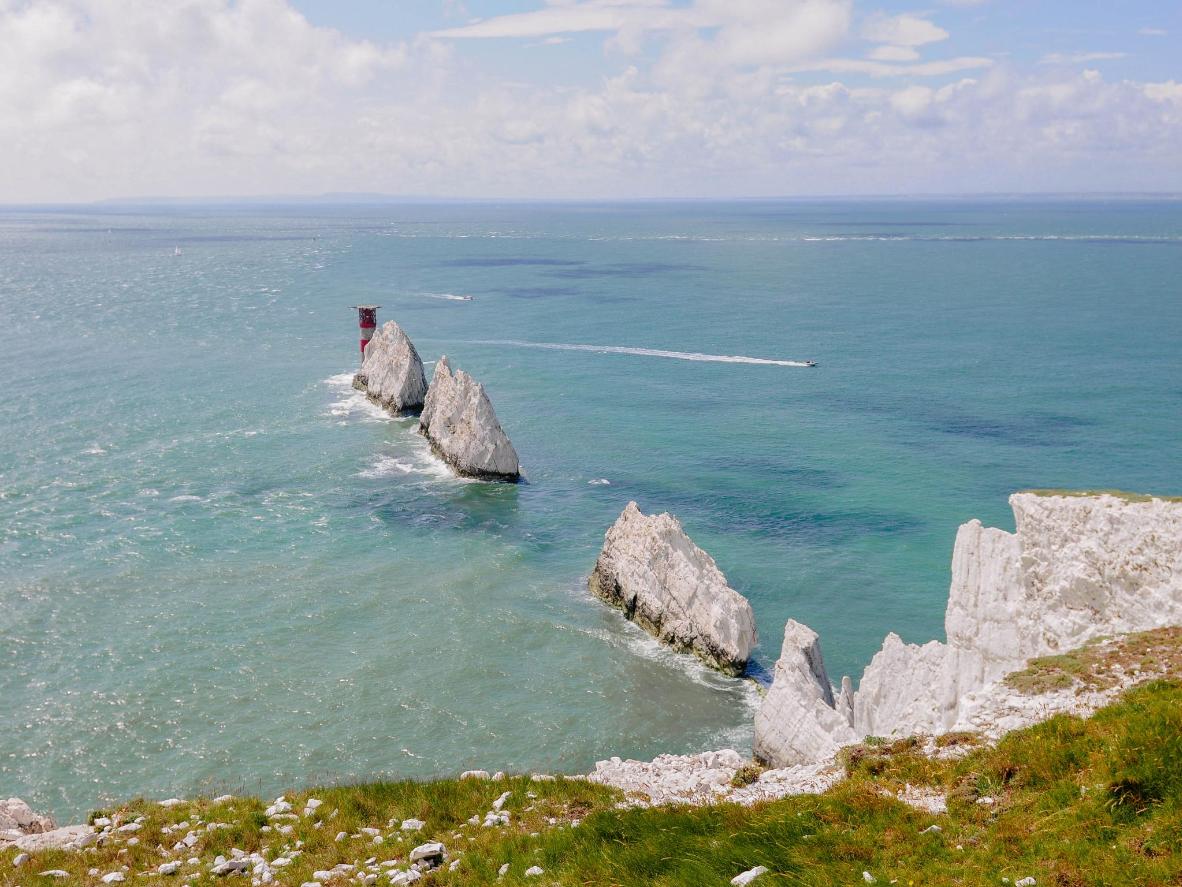 These famous chalk stacks known as 'The Needles' are a natural wonder
Just off the south coast of England, the Isle of Wight gets over 37 hours of sunshine a week, making it one of the best spots in the UK to soak up some rays. If you're planning to spend a day camped out on its sandy shores, you can hire a vintage beach hut to lounge around in, or keep active with some kayaking or paragliding. For families with young children, The Needles offers plenty of fun for all ages, including a 4D cinema, a traditional Victorian carousel and the famous Alum Bay glass factory. Before you leave, take a spectacular chairlift ride to experience the best views of the Needles rocks and coloured sands. When you've tired yourself out from all the excitement, head back to the Whitefield B&B and wake up to a freshly cooked English breakfast.
Bristol
Enjoy great views over Bristol from the Clifton Suspension Bridge
Bristol's residents bask in over 1,600 hours of sunshine a year, so it's no wonder that the city is frequently listed as one of the happiest places to live in the UK. Sunny days are best spent strolling over the city's iconic Clifton Suspension Bridge, which goes across the Avon Gorge and offers lovely views over Bristol. There are over 400 parks and gardens dotted around the city, so you can enjoy outdoor activities like picnics or just lazing about on popular greens like Durdham Downs. If you want to make the most of a sunny day, jump on a Banksy walking tour to hear about the famous Bristolian and see some of his most well-known pieces of street art. Take in views of Castle Park's medieval ruins and the River Avon from the modern Cleyro Serviced Apartments.
Eastbourne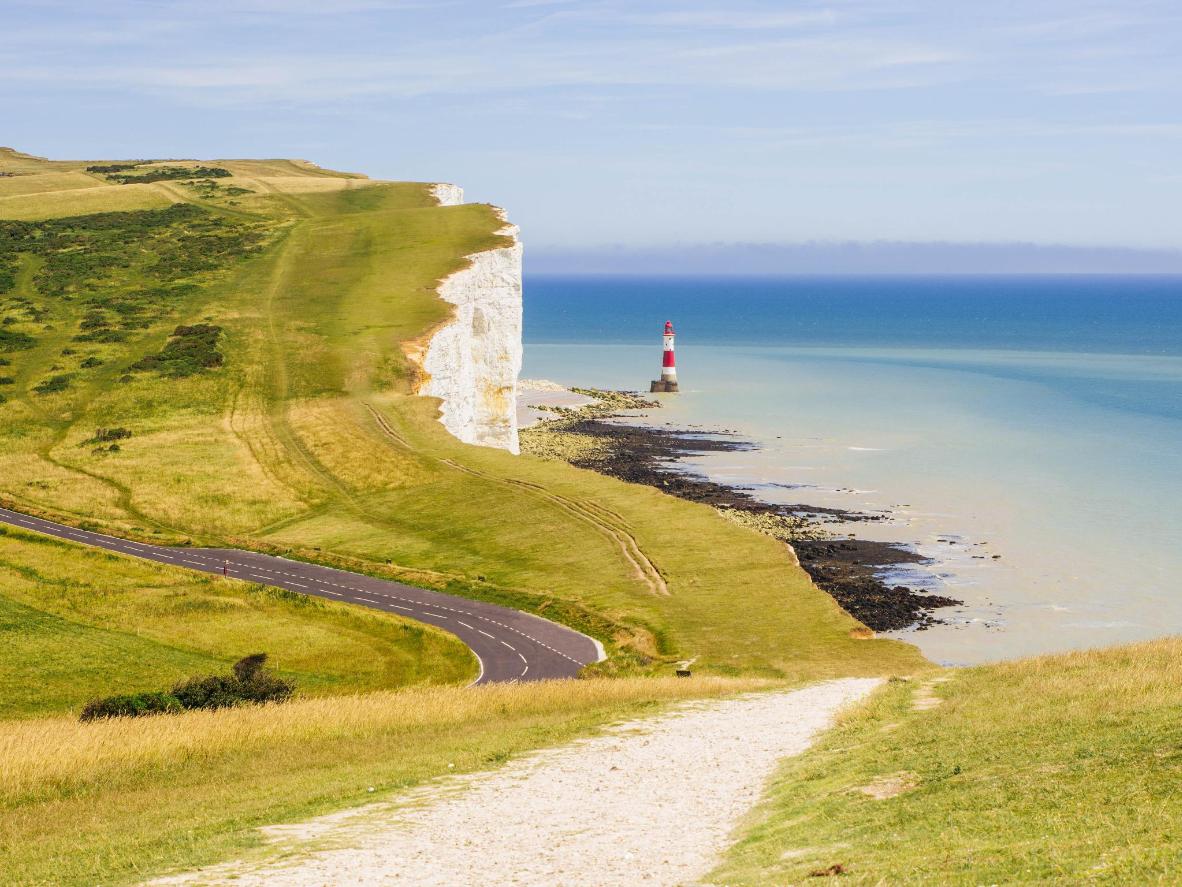 Hike up to Beachy Head – Britain's highest chalk cliff
Officially the UK's sunniest town, Eastbourne clocks up an average of nearly five hours of rays a day. Situated on England's southeast coast, it's brimming with charm thanks to its colourful seafront houses and a Victorian pier with a fish and chip restaurant, tea room and a traditional amusement arcade. If you fancy stretching your legs, try walking the scenic five-mile route up to Beachy Head, Britain's highest chalk cliff. A photo with its famous red and white lighthouse is a must for any visitor. Wake up to ocean vistas every day at The View Hotel.
Bognor Regis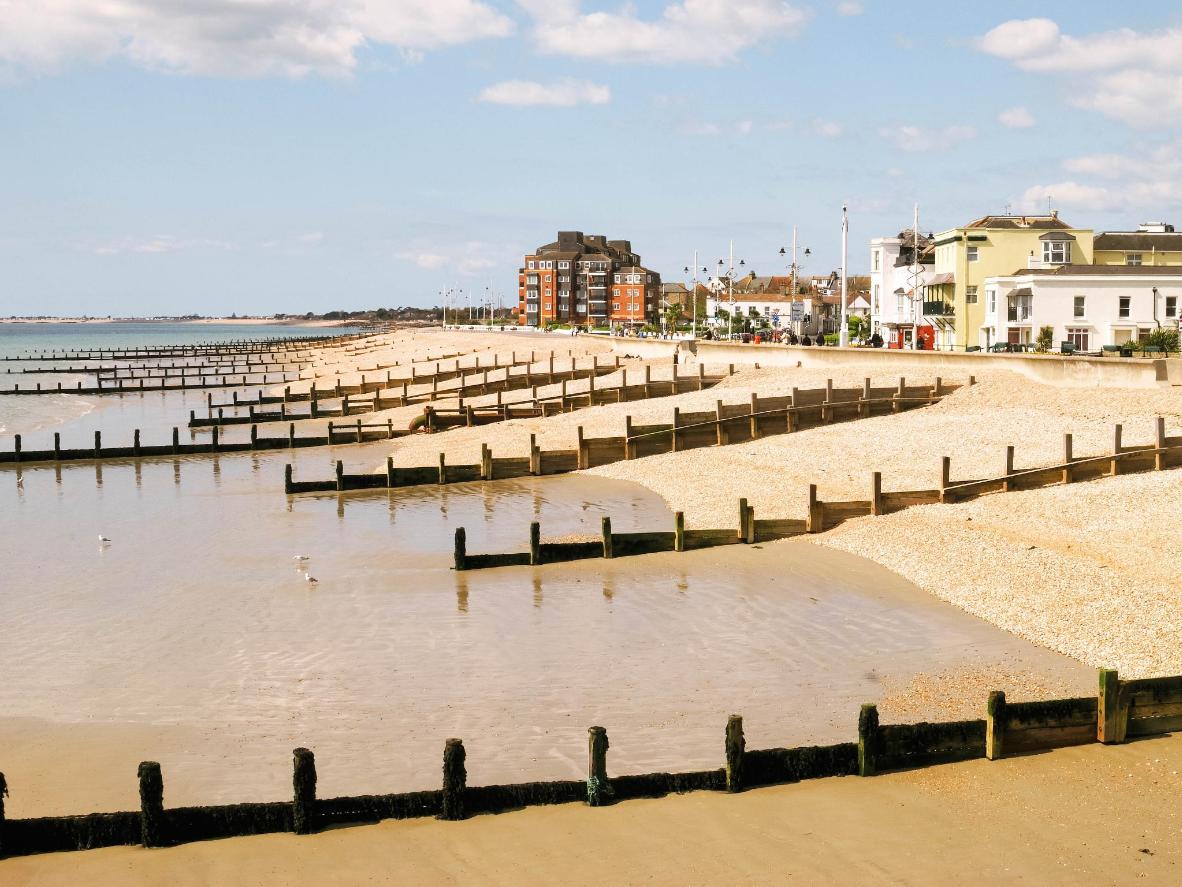 Bognor Regis has several beaches along its coastline
Bognor Regis is another part of the UK where sunshine is a staple. Its promenade stretches 2.5 miles along the coast and is where you'll spot lots of people hiking or biking beside the sea. The clean beaches and pier are two of the most popular attractions, but if you want something less crowded, try Hotham Park with its miniature railway, boating lake and putting green. Treat yourself to a soak in the hot tub when you get back to Very Nice Vegan Stays.