Following a disrupted summer, it's fair to say that a lot of us are in need of a holiday. And since working from home now seems a long-term possibility for many, why not use this time to try a close-to-home digital nomad escape?
Here are six of the best remote, rural boltholes in Britain, perfect for clearing your mind in a new setting and trying out that digital nomad lifestyle. Or simply enjoying a weekend mini-break.
The Old Post Office, Gloucestershire
Enjoy refreshing and scenic between-work walks around The Old Post Office in the Cotswolds
Beautiful inside and out, the vine-covered, grey stone Old Post Office retains lots of traditional features including heavy wooden doors, low wood-beamed ceilings and a huge stone fireplace. Nestle up with some work in one of the many nooks or in front of the fireplace or sit in dappled sun on patio furniture while attending an online meeting. It's also in the middle of the Cotswolds, a famously bucolic region of England, which is perfect for refreshing and scenic between-work walks.
Duddon Mews, Cumbria
Duddon Mews is a remote cottage in the Lake District, perfect for anyone suffering from creative block
There's a storybook quality to this holiday home with whitewashed walls and green-painted doors and window frames. Its moody, umber hills and romantically remote, calming location make it perfect for anyone suffering from creative block – stand on the dry-stone steps curling around one side of the house and take in the isolation of the Lake District for guaranteed inspiration.
The Snuggery, Cornwall
Take a lunch break picnic to a Cornish cove close to The Snuggery
This aptly named little house is one for those hoping to recreate a classic summer beach holiday abroad without leaving the UK. The patio is a sun trap for dreamy workday lunches and the cottage is well-placed to visit Cornwall's sandy coves for a beach picnic or perhaps a swim in the sea. But even if the weather isn't on your side, the house is primed for bubble baths and cosy days spent reading books by the stove.
Pea Cottage, Lincolnshire
Rustle up a nice after-work dinner in Pea Cottage's spacious kitchen
Pea Cottage is really more of a country house than a cottage, with high-ceilinged rooms, large stone slab floors and a welcoming fireplace. Break up your working days here with a 4-mile walk through the nearby Barnack Nature Reserve, catching glimpses en route of grand country mansion, Walcot Hall. And spend your evenings enjoying a post-work soak in the freestanding bathtub or dinner in the spacious dining room beneath steampunk light bulbs that glow a copper colour.
Bluebell Cottage, Scotland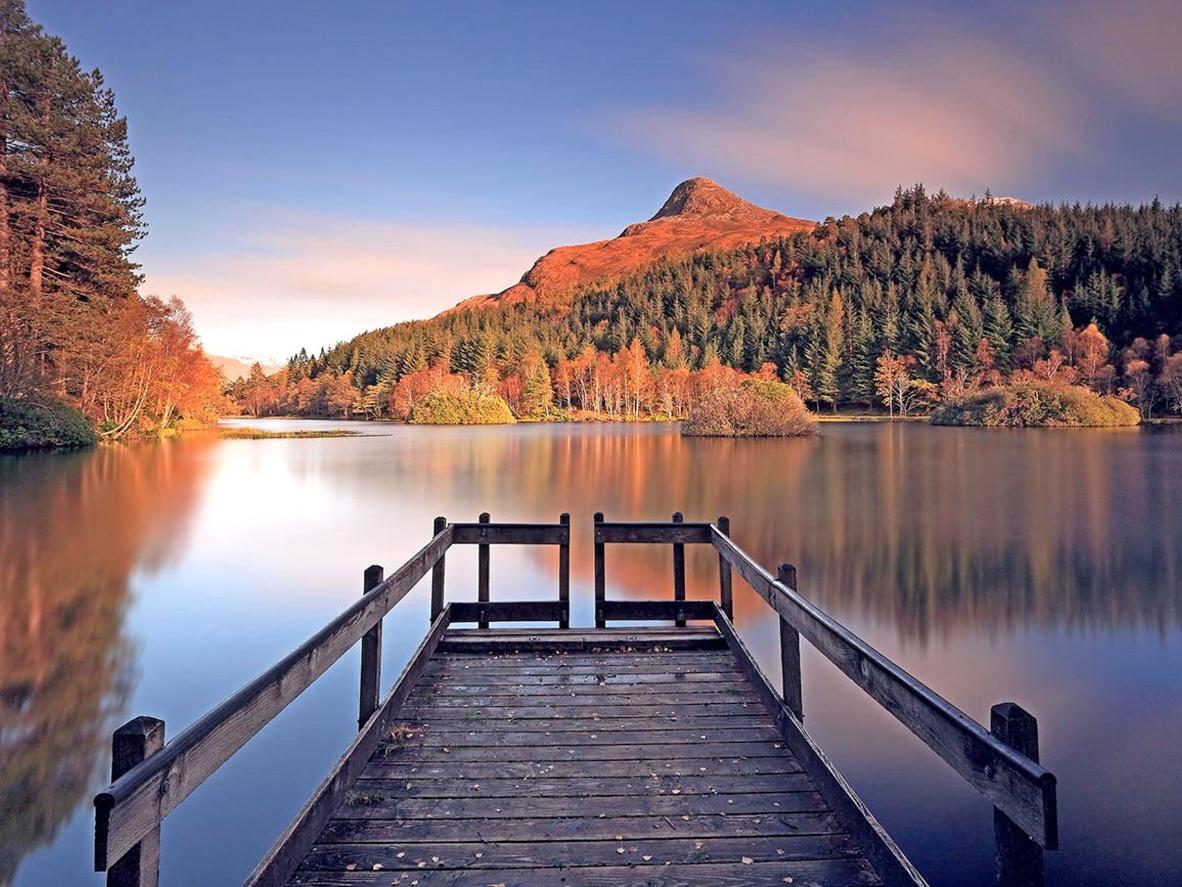 The pier jutting out into Loch Linnhe at Bluebell Cottage guarantees captivating morning coffee views
To really feel like you're getting away from the daily grind without taking time off, working from Bluebell Cottage will do the trick. This miniature wooden chalet on the edge of Loch Linnhe looks out onto the Scottish Highlands, a view to brighten up any ordinary working day. Spend your free time hiking and perhaps wild swimming in the loch, and your evenings watching the sunset from the wooden pier jutting out onto the water.
Bourton Croft Cottage, Gloucestershire
The idyllic Cotswolds village of Bourton-on-the-Water
This traditional stone-and-slate terraced cottage is located in the mellow Cotswolds village of Bourton-on-the-Water and is constructed from the region's recognisable honey-coloured stone – perfect for mid-work afternoon strolls along the river bank past small, historic stone bridges and willow trees.