Looking for inspiration for an autumn getaway? Look no further. We've curated a list of the top nine cities in the northern hemisphere to visit between September and November. Whether you'd rather soak in Seoul's hot springs or tuck into sticky cinnamon rolls in Montreal, head to any of these nine destinations for the ultimate autumn city break.
Seoul
Red, orange and yellow leaves that coat the city of Seoul
Autumn in Seoul is lively and enchanting. Red, orange and yellow leaves coat the city's pretty and peaceful parks, while trucks carry freshly harvested persimmons and pears through the bustling streets. Check out the food stalls at Gwangjang Market for some of South Korea's many delicious seasonal delicacies – pine mushrooms, roasted chestnuts served with charred sweet potatoes, blue crab and fish cake, to name a few. Meanwhile, hot springs, crisp mountain air and waterfalls bordered forest await you just outside the city. After a day hiking crimson mountainsides, head back to Seoul's highly rated Hotel28 Myeongdong.
London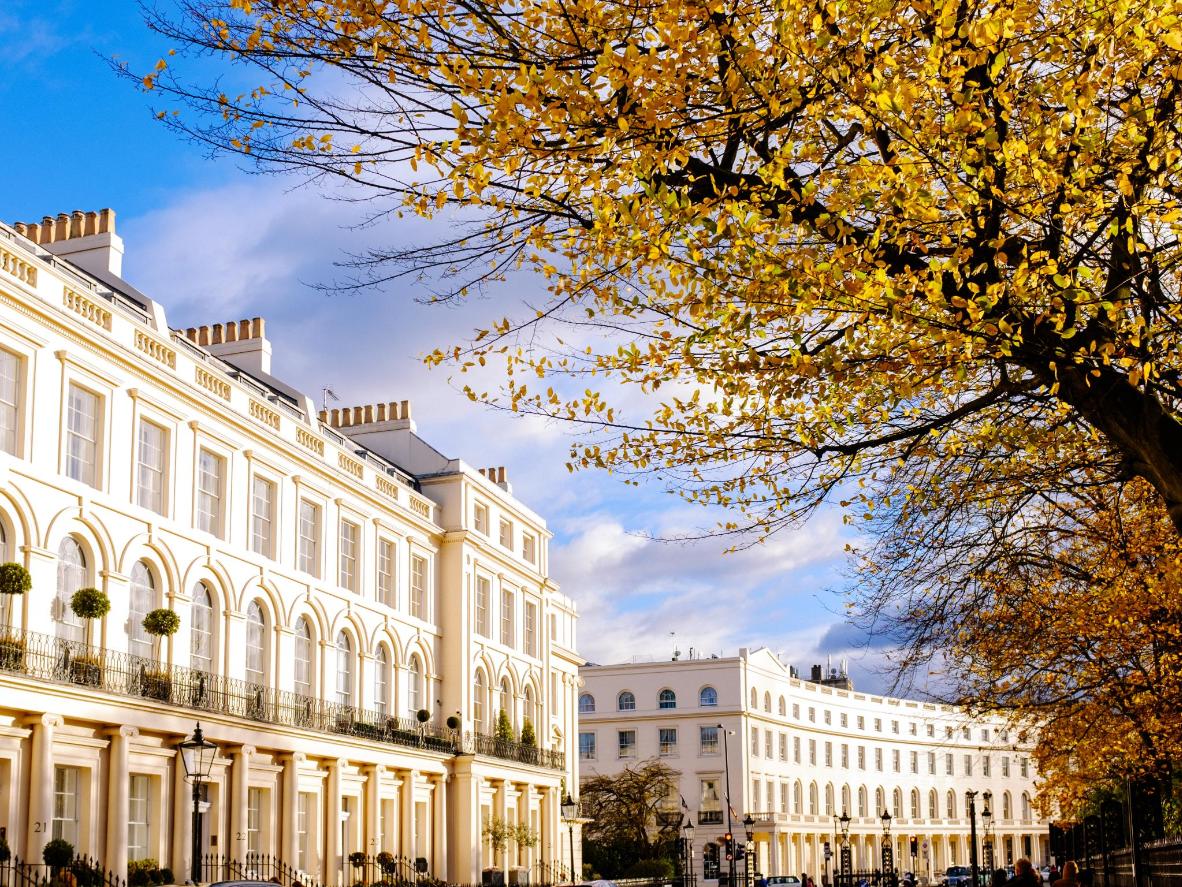 Stroll through crunchy autumn leaves in any of Londons' many parks
Crisp and mild sunny days, afternoons in pubs, Bonfire Night, parks filled with fallen leaves – London in autumn feels wonderfully festive. What's more, the summer crowds die down once school holidays are over, and the city's cultural calendar gears up for Christmas. Expect art fairs, new blockbuster exhibitions (this year includes Cézanne at Tate Modern), film festivals, a plethora of theatre to choose from, outdoor ice-skating and more. Check into The Hoxton, Southwark, just a 10-minute walk from Tate Modern.
New York City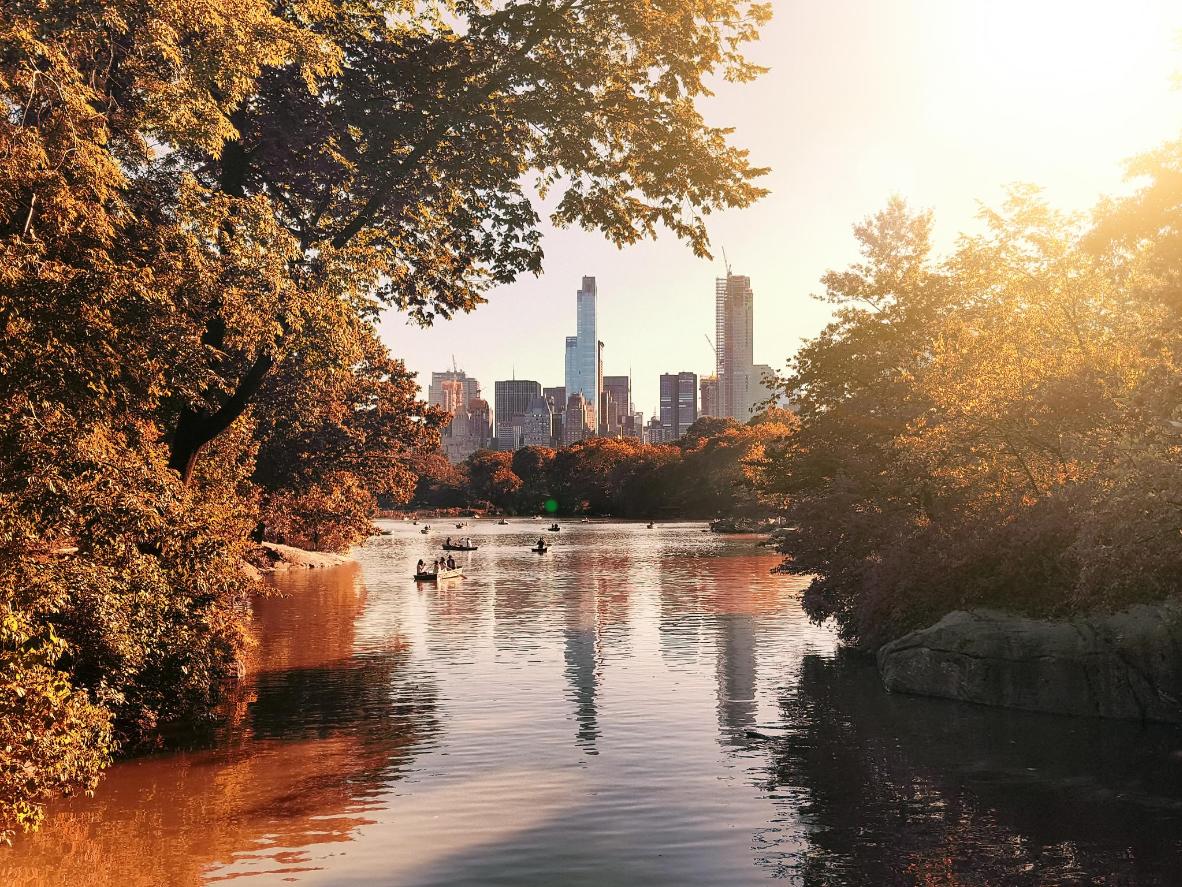 Rent a boat and sail the Central Park Lake
Autumn is a beautiful time of year in The Big Apple. The air is crisp and cool, and swathes of the cityscape are cloaked in ruby-coloured foliage. But it's also prime time for citywide celebrations and cultural attractions. Lap up everything from big exhibitions and light installations to Halloween parades, music concerts and the New York Comedy Festival. If you want to get out of the city, head off on a seasonal apple-picking expedition to local farms in the tristate area. Or take the four-and-a-half-hour train ride to Boston, another US city that comes into its own in autumn. When you're in NYC, stay a half-hour stroll from Prospect Park at the Ace Hotel Brooklyn to enjoy the autumnal hues of the maple trees that line the lake.
Rome
The historic landmarks of Rome promise fewer crowds in autumn
Following the scorching summer, autumn in Rome brings cooler temperatures, fewer tourists and yet skies that are still wonderfully blue. There is a host of autumn harvest festivals in and around the city, known as sagre. Several of these are held in the towns or villages surrounding Rome, showcasing local culinary ingredients and delicacies – check out the sagre in Lazio for show-stopping Italian fare. Enjoy the generous Italian breakfast spread and bright suites at Vatica B&B Roma.
Paris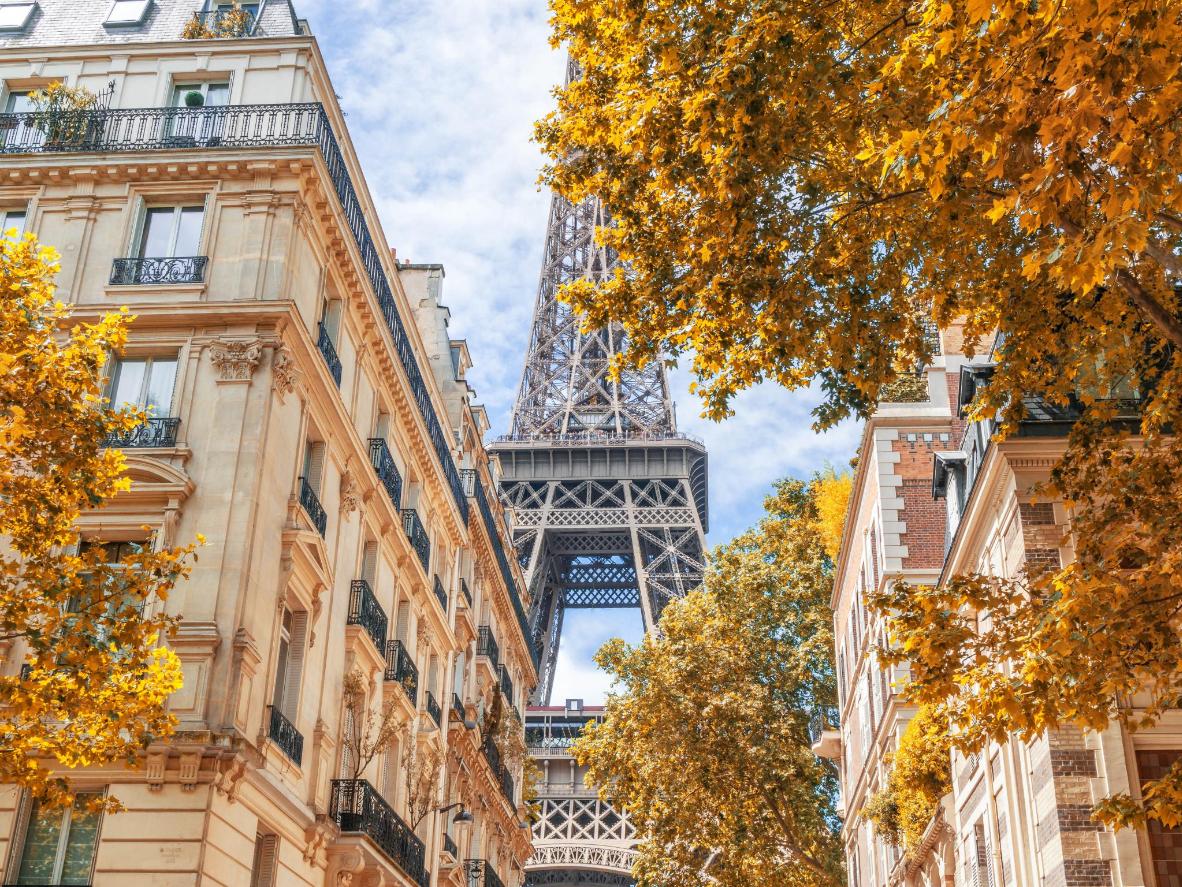 Paris' stunning architecture stands out amongst the autumn hues
Autumn is a season brimming with excitement in Paris, and not just thanks to the arrival of Paris Fashion Week at the end of September. All the shops that closed for the month of August reopen, the tourist attractions are quieter than in the summer, and the parks are particularly lovely draped in autumn foliage. Stroll over crunchy golden leaves in the Jardin des Tuileries and treat yourself to a cup of chocolat chaud in a Parisian café, before hopping on the metro to visit the Fondation Louis Vuitton in the Bois de Boulogne. Check into Hotel d'Orsay, right next to the eponymous museum and just across the Seine from the Jardin des Tuileries.
Tokyo
The maple and ginkgo trees turn shades of gleaming gold and red in Otaguro Park, Tokyo
Aside from spring and its captivating cherry blossom, autumn is arguably the best time to visit Tokyo. The maple trees that fill the parks of the city turn from green to brilliant shades of amber and crimson, bathing the city in a warm, golden glow. But it's not just the seasonal sights that take things up a notch at this time of year; warming winter fare starts to appear, with chestnuts, Matsutake mushrooms and roasted sweet potato being sold by street vendors all over the city. Stay next to one of Tokyo's prime autumnal maple beauty spots and traditional Japanese garden, Koishikawa Korakuen, at Tokyo Dome Hotel.
Prague
The architecture on Charles' bridge, Prague glows in the gentle autumn light
Head to Prague in autumn before the real winter cold sets in, and when sightseeing on foot is still doable. You can expect a festive and cosy atmosphere, with golden statues and regal architecture glowing in the gentle autumn light. It's also prime time to enjoy hearty Czech cuisine, with warming goulash or dumplings available in practically every eatery. Then there's the festival season, from wine festivals to art shows, including the renowned Prague Sounds (running from early October to mid-November), featuring some of the Czech Republic's most dazzling musical talent. Stay just across the road from one of the gala's main venues (the Archa Theatre) at the grand Art Deco Imperial Hotel.
Munich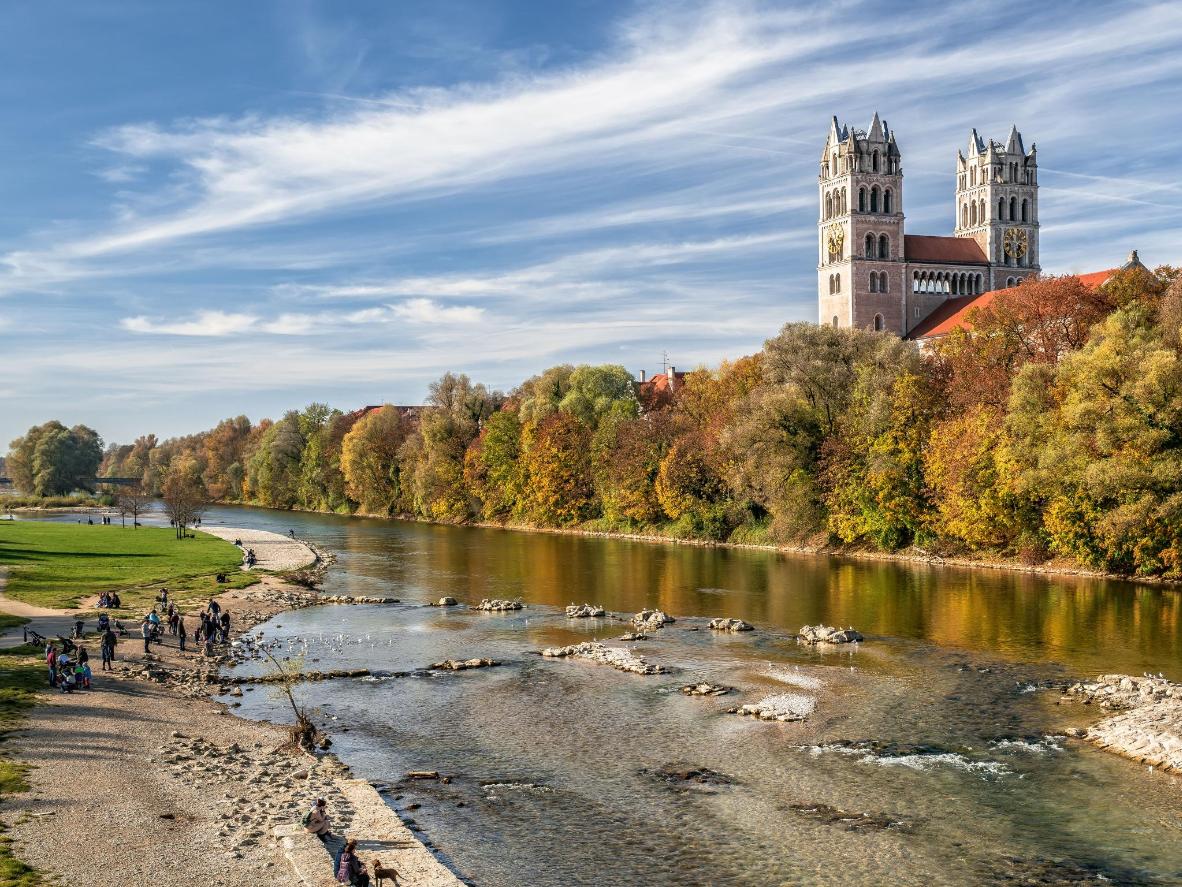 The River Isar is the perfect landscape for an autumnal walk
Late September marks the beginning of Oktoberfest (the world's largest beer festival) in Germany, and Munich is a great place to celebrate – promising entertainment, funfair rides, fresh pretzels and a lot of delicious beer. But as the capital of scenic Bavaria, Munich is also the gateway to the immense natural beauty of the southern German countryside, which is enhanced in autumn when the Black Forest in neighboring Baden-Württemberg turns orange and amber. After hiking the trails of the mountains outside the city, tuck into a generous serving of the area's famous Black Forest Gateau. Stay at the highly rated, central Lizz Hotel Munich.
Montreal
Autumn colours compliment the cityscape of Montreal
Canada's autumn foliage is hard to beat, with a plethora of remarkably beautiful national parks within short driving distance from Montreal, Oka National Park is just a 45-minute drive from the city centre. Head here for 11km of hiking trails that circle the shores of Lac des Deux Montagnes, with glowing red and golden leaves reflected on the surface come autumn. There's also Mont-Tremblant National Park (the largest and oldest park in the region) and Mont-Saint-Bruno (only a half-hour drive from Montreal and offering apple picking in autumn). Montreal is celebrated for its world-class bakeries, so head back to town to pick up something seasonal – think spiced cookies, pumpkin brioche and sticky cinnamon rolls. Stay at the elegant and contemporary Maison Sainte-Thérèse in Montreal.