Some city skylines are enough to take your breath away. From mystical minarets peeking up out of a rolling sea mist, to row upon row of glittering skyscrapers. For those who are fond of spectacular city panoramas, these destinations offer the very best, with plenty of lookout points, observation towers and rooftop bars.
New York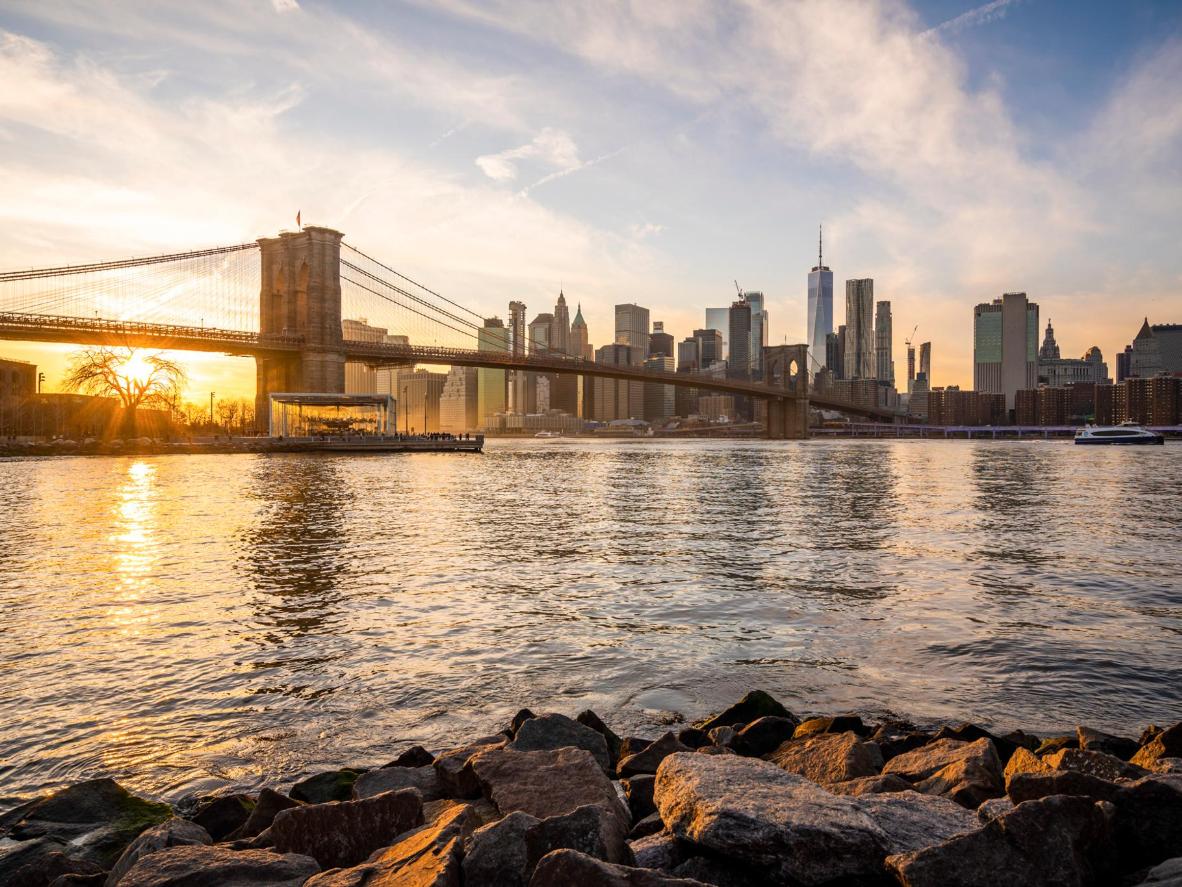 Downtown Manhattan, Brooklyn Bridge Park, New York
One of the most instantly recognisable skylines in the world, New York City's famous vistas do not disappoint. Clusters of historic Manhattan skyscrapers cut a stark silhouette, whether lit up at night or glinting in the sun. You don't necessarily have to climb the Empire State Building or Rockefeller Center for a photo opportunity; there are several other vantage points that offer great views from ground level, including the Brooklyn Bridge Park. Enjoy incredible skyscraper skyline views as a guest at The Bowery Hotel.
Rio de Janeiro
Sugarloaf Mountain, Rio de Janeiro
Built amid spectacular mountain, jungle, and coastal scenery, Rio de Janeiro is a truly unique and special city. Its distinctive skyline features the giant statue of Christ the Redeemer, the rounded, lush green peak of Sugarloaf Mountain, the white sandy strip of Copacabana beach and a complex patchwork of favelas and skyscrapers. Catch the cable car travelling up to the top of Sugarloaf or visit a rooftop bar for the best panoramic views. Check into the Hotel Fasano Rio de Janeiro, which has one of the best views in all of Rio from its stunning rooftop swimming pool.
Budapest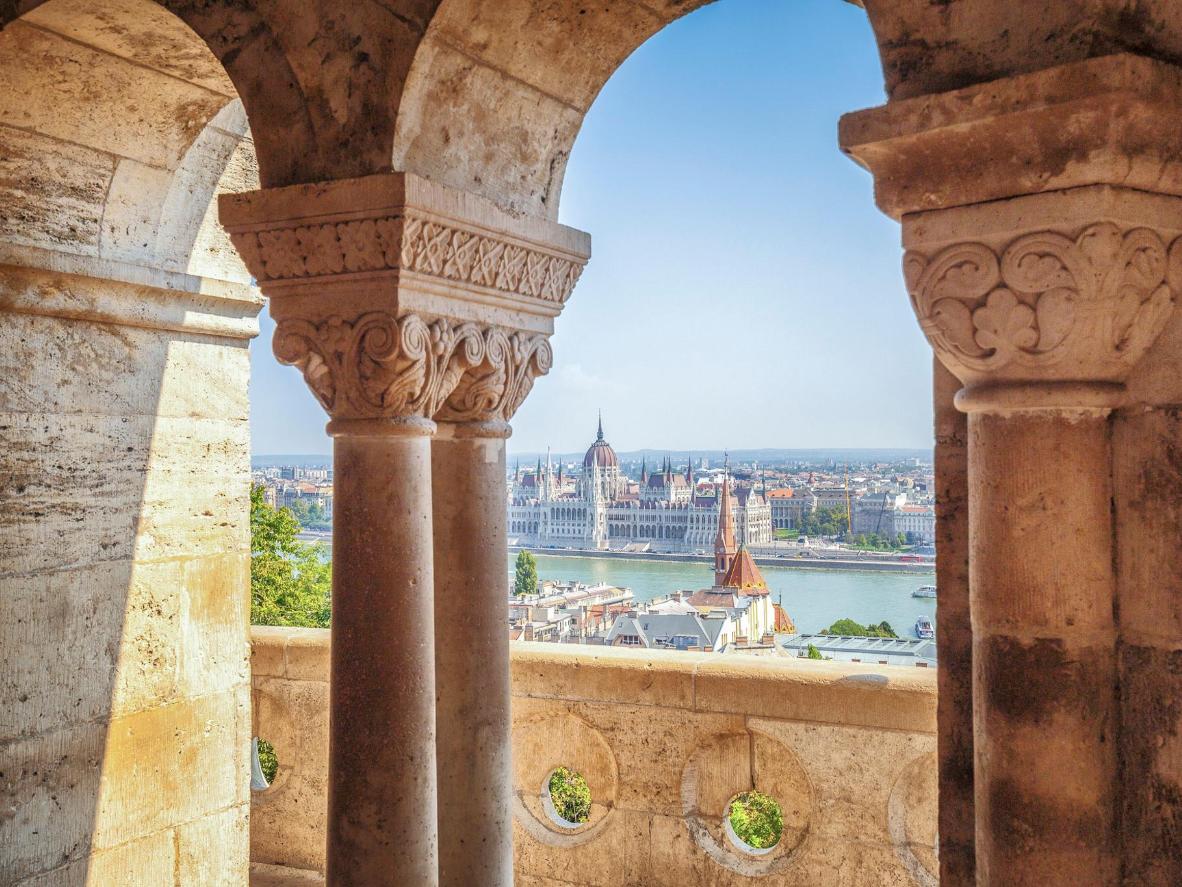 Fisherman's Bastion over Danube river delta, Budapest
All along the Hungarian capital's skyline you'll see buildings and monuments of fanciful proportions. The intimidatingly grand Gothic Parliament Building, the Chain Bridge, Buda Castle and St. Stephen's Basilica. Not to mention the romantic, white stone turrets, parapets, and terrace of the Fisherman's Bastion fortress. For an impressive balcony view of the Danube River and Budapest's Chain Bridge, spend the night at the Four Seasons Hotel Gresham Palace Budapest.
Tokyo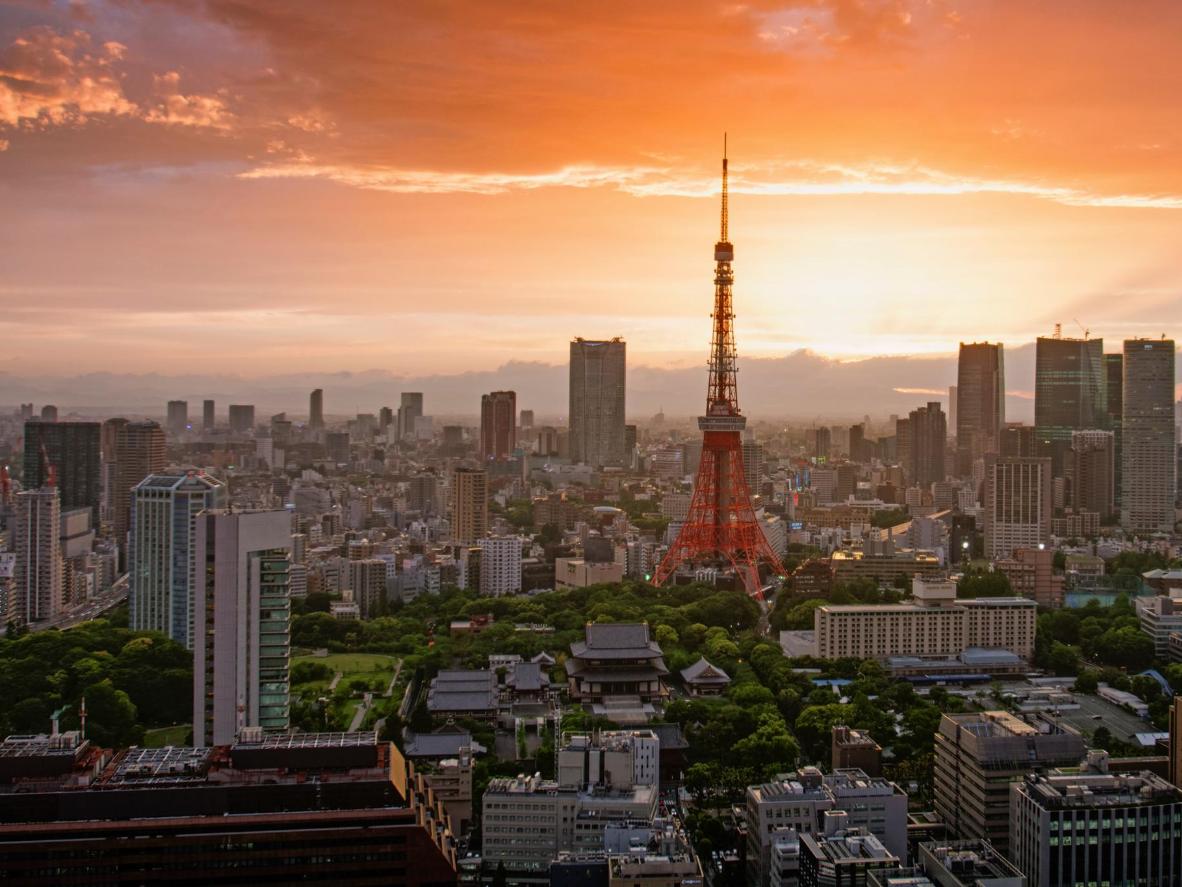 Tokyo evening view from the World Trade Center building, Tokyo
Tokyo is one of the world's most fast-paced metropolises and its busy skyline, filled with towering and awe-inspiring skyscrapers, reflects that. Enjoy the high-speed trains and other technological delights, and take an elevator up to the top of one of the popular viewing platforms for a panorama to remember. If you reach a sufficient height – at the top of Tokyo's World Trade Center, for example – the neon glow and traffic below guarantees quite a buzz. Treat yourself to a sky-high hotel room at Park Hotel Tokyo.
Edinburgh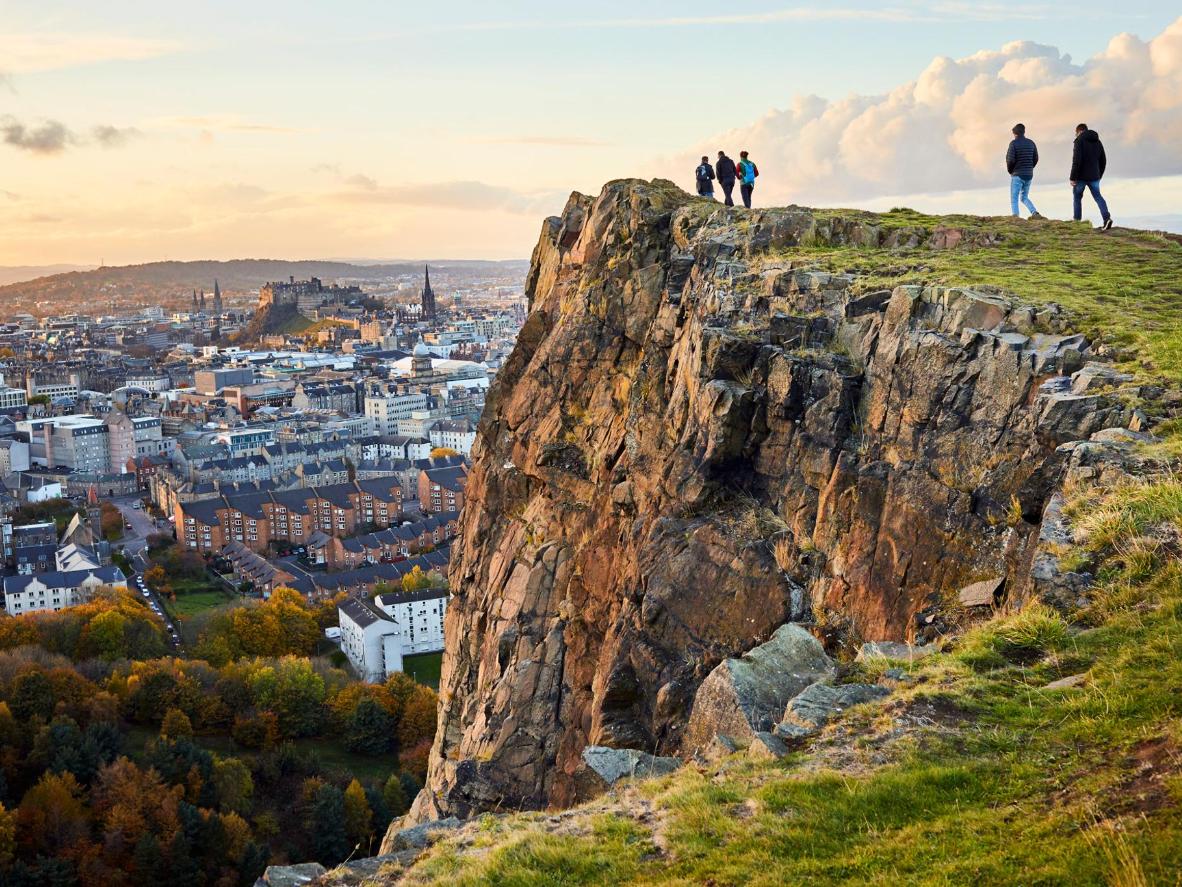 City view from Holyrood Park, Edinburgh
Edinburgh is one place where a grey stormy sky can really add something extra to the already extraordinary skyline. The city's castle stands above the rest of the city, with choppy waves out at sea and the mountain of Arthur's Seat in Holyrood Park in the background. This mountain provides unparalleled panoramic vistas of Edinburgh and is an easy climb. Return to spend the night at the Waldorf Astoria Edinburgh - The Caledonian, which has unobstructed views of Edinburgh Castle.
Hong Kong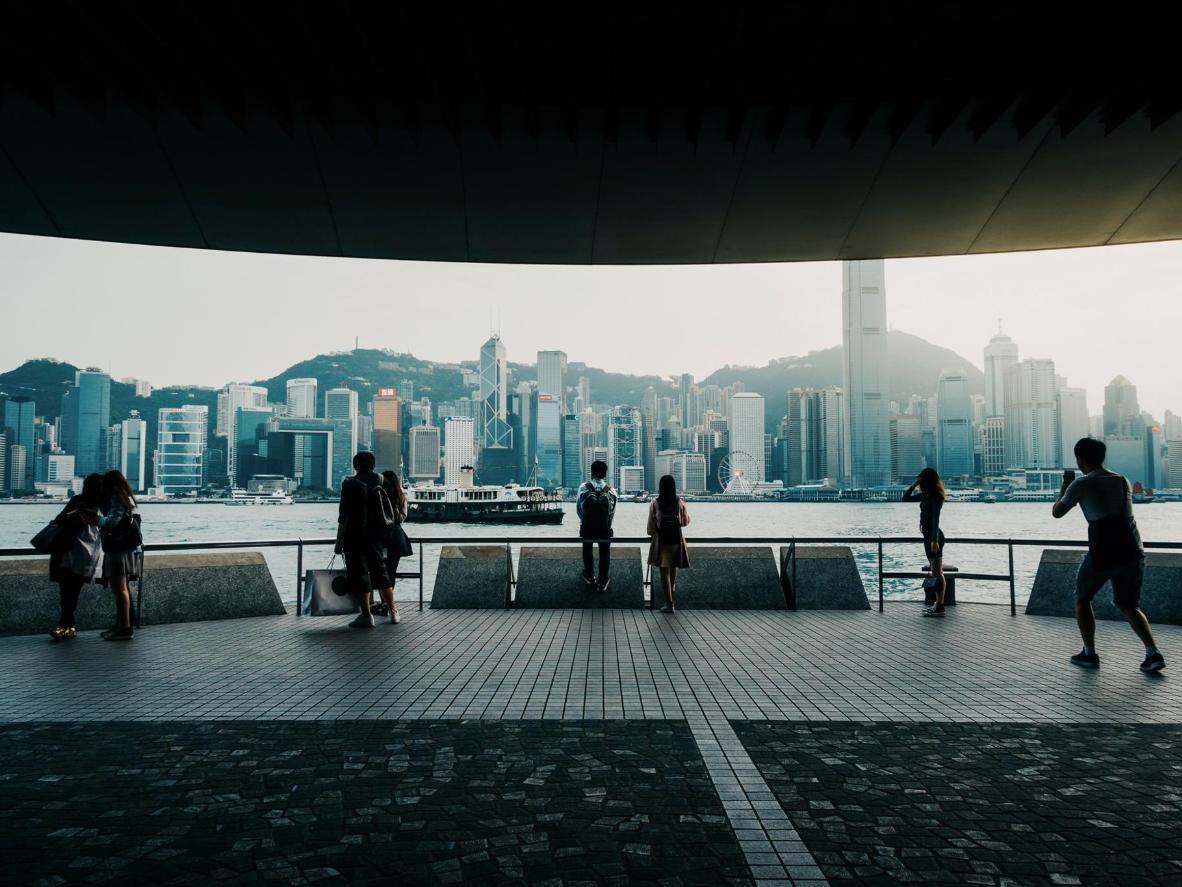 Panorama of Victoria Harbor, Hong Kong
Hong Kong is celebrated for its dense, high-rise skyline bordered by national parkland on one side and ocean on the other. At night, the view is incandescent, reflected beautifully on the water. Each skyscraper is lit a different shade of neon, and many emit faded shards of light out onto the bay. Check into The Peninsula Hong Kong for sensational, sparkling city views.